Still a few tassels left to turn
By Phyllis Moore
Published in News on June 7, 2017 6:56 AM
Full Size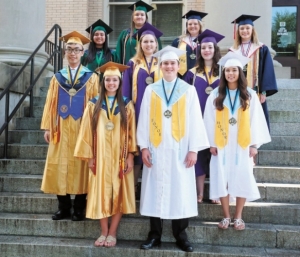 News-Argus/CASEY MOZINGO
Shown above are Wayne County Public Schools' valedictorians and salutatorians from the five remaining schools that have graduation ceremonies, front row from left: Eastern Wayne High School valedictorian Zhanhao Liao and salutatorian Elizabeth Sutton and Charles B. Aycock High School valedictorian Matthew Hare and salutatorian Alicia Stanton; center row: Rosewood High School valedictorian Victoria Hill and salutatorian Sofie Ritcher; back row: Spring Creek High School valedictorian Selena Reyes and salutatorian Cassandra Gonzalez, and Southern Wayne High valedictorian Cassidy Mason and salutatorian Louise Freeman.
Five public school commencement ceremonies remain for the Class of 2017.
The last day of classes for the bulk of students in Wayne County Public Schools will be this Friday.
The first graduation, for Spring Creek High school, takes place on Saturday at 10 a.m. in the Kornegay Arena at the University of Mount Olive. There are 156 candidates for diplomas.
Valedictorian Selena Reyes plans to attend Wayne Community College to study nursing.Salutatorian Cassandra Gonzalez will be studying biology at UNC-Chapel Hill.
Three commencement exercises are scheduled for Tuesday evening, June 13.
Eastern Wayne High School will hold its ceremony on the campus at 6 p.m. at Warrior Football Stadium. The school has 242 graduates.
Zhanhao Liao, valedictorian, will be studying economics at Boston College.
Salutatorian Elizabeth Sutton plans to attend UNC-Wilmington and major in pre-clinical public health before attending physician's assistant school.
Ceremonies at Rosewood and Charles B. Aycock high schools kick off at 7 p.m.
Both will be held on their respective athletic fields.
CBA has 323 graduates.
Valedictorian Matthew Hare will be studying business at UNC-Chapel Hill.Salutatorian Alicia Stanton will be attending UNC-Chapel Hill, studying biology with plans to become an anesthesiologist.
Rosewood High has 132 candidates for graduation.
Victoria Hill is valedictorian. She plans to pursue a degree in social work at UNC-Wilmington.
Sofie Ritcher, salutatorian, will be attending Wayne Community College in the fall and plans to pursue a degree in elementary education.
Southern Wayne High School will graduate 241 studentson Thursday evening, June 15, at 8 p.m. in Kornegay Arena at UMO.
Valedictorian Cassidy Mason will be studying marine biology and environmental science at UNC-Wilmington.
Salutatorian Louise Freeman plans to study biology at UNC-Chapel Hill.