Town hall tackles safety, city projects and roads
By Rochelle Moore
Published in News on June 7, 2017 6:56 AM
Full Size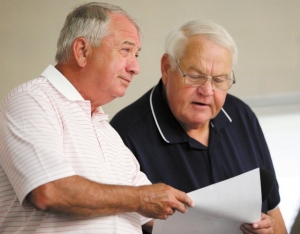 News-Argus/CASEY MOZINGO
City Council members Bill Broadaway and Gene Aycock, confer during a town hall meeting with their constituents at New Hope Methodist Church.
Residents attending a Goldsboro Council town hall meeting Tuesday got answers about city projects, street maintenance, safety and other issues.
The meeting at New Hope United Methodist Church drew about 50 people. The event was hosted by District 2 Councilman Bill Broadaway and District 6 Councilman Gene Aycock in an effort to better communicate with residents of their districts.
The meeting started with an overview of projects underway or planned during the next year, including development of a stormwater maintenance program and the repaving of city roadways.
Residents were interested in learning which roads in the two districts were scheduled for repaving this year. A contract of nearly $2.5 million was recently signed that includes road resurfacing in every council district during the next several months.
"I expect in July you'll see the work, and in October, November they should be done," said Scott Stevens, city manager.
One resident asked for a turning lane on Bay Leaf Drive, near U.S. 13, and another asked for help in reducing traffic in the Harding Road area near Outback Steakhouse. Kimyarda Lawson asked for a traffic light at the intersection of Hare Road and Tommy's Road.
Carl Martin asked when District 6 can add a public park.
"Does the city have any plans of when we can see a city park in District 6?" Martin said. "My concern is let's see some money in the budget so we can buy some land before there's no more land available."
Broadaway said the city has other projects that need to be completed, including the addition of a sidewalk along Spence Avenue, a road maintained by the N.C. Department of Transportation.
Jim Ward asked if city crews can clear a path along Spence Avenue now.
"Let's not wait until we can put in a sidewalk," Ward said. "That's way down the road."
Aycock said projects that are completed by the state Department of Transportation, such as sidewalks or road maintenance, tend to take years.
"A lot of the streets that are in bad shape are state maintained," Aycock said. "The only thing we can do is ask, and we do, real often."
City officials said they would look into all the requests and provide updates to residents interested in being added to an email chain letter.
Several people thanked officials for holding the meeting. Aycock said he is interested in having more town hall meetings in the future.
"I think it was a wonderful meeting," said Billy Reeves. "I think the people got questions answered, and I think the city council agreed to do some things to support what the community needs."
James Morgan said the meeting was needed, and he felt that city officials were working to address requests by residents.
Debbie Frazer also thought the meeting was helpful.
"There are a lot of concerns that are being addressed," she said. "I think Scott Stevens is on point with addressing the issues that were brought up tonight."
Other Local News