Dillard/GHS alumni gather
By Dennis Hill
Published in News on May 28, 2017 12:25 AM
Full Size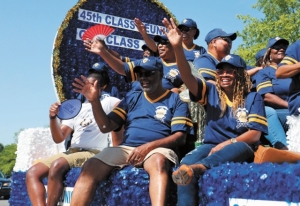 News-Argus/CASEY MOZINGO
The Class of 1972 waves from its 45th class reunion float Saturday on Center Street during the Dillard /Goldsboro alumni parade.
Thousands of people packed downtown Goldsboro on Saturday on a beautiful, sunny spring day for the annual Dillard/Goldsboro High reunion parade, bringing together alumni of the schools from every part of the country who gathered to celebrate their 62nd homecoming.
"We all look forward to Memorial Day weekend. To us, Memorial weekend is just like Christmas Day," said Helen Coley Harris of the Class of 1960.
"It's classmates getting back together and enjoying one another," said Fred Shadding of the Class of 1957, who came from Oklahoma City, Oklahoma, for the festivities.
The parade was the highlight of Saturday's events but there were parties, banquets and class gatherings all weekend.
"We're just glad to be able to get together," said Adeen George of the Class of 1957.
"We want to see old friends," said Ernest Green of the Class of 1972, who drove from Charlotte for the event. "It's everybody we grew up with. A lot of us grew up together from the first grade. All of us just want to be together this one weekend."
When asked what makes the Dillard/GHS reunion so special, Ray Council of the Class of 1985 turned around and showed off a T-shirt with the words "One town, one team" displayed on the back.
"This is only once a year," he said. "It's just a big class reunion for everybody. We look forward to this every year."
Gary Packer of the Class of 1979 served as coordinator of the parade, which began on South Center Street.
"Because of the history of the high school, it's just like a family reunion," he said. "And if you know about family reunions, it's rain or sleet or whatever. That's the spirit behind all this."
"It's love and strength and unity, that's what is behind this," said Lou Ann Oxendine of the Class of 1972. "It just keeps getting better and better."
Evelyn Warren of the Class of 1950 pointed to the leadership of the school's longtime principal, the late H.V. Brown, as the catalyst for the school's closeness.
"He instilled in us to stay together, to keep the alumni going and serve the community," she said.
"It's love and unity. The memories of years past," said Thelma Coley Reid of the Class of 1960. "We're just meeting and greeting and having a good time with old schoolmates.
Other Local News