Students preparing for end-of-grade tests
By Phyllis Moore
Published in News on May 29, 2017 7:01 AM
Full Size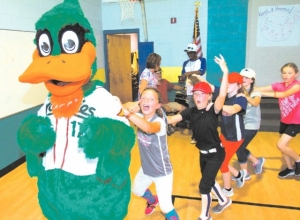 News-Argus/STEVE HERRING
The Down East Wood Ducks mascot leads a dance line with Carver students.
There was no lack of pep at the rally in the gym at Carver Elementary School on Friday afternoon.
To gear up for the end-of-grade tests, the school adopted a baseball theme to "Knock the EOG out of the park" with various activities planned to encourage and motivate students, said fourth-grade teacher Robin Casey.
The school's PTSO provided popcorn for students and enlisted the services of "Dewd," the mascot for the Wood Ducks minor league baseball team in Kinston.
Homerooms created banners to be displayed in the hallways and each of the fourth grades adopted team names -- "Can't Stop 'Em Caseys," "Holland's Hoppers," "O'Neals Outstanding Owls," "Powell's Powered Up Pack," "Scott's Shooting Stars" and "Smith's Super Students."
A similar effort took place Friday afternoon at Grantham Elementary School, where Muddy the Mudcat, the mascot for the Zebulon minor league team, held court.
"Our tests are Wednesday and Thursday," said Beverly Anderson, media coordinator.
At her school's assembly, teachers performed skits and rap songs as a way to encourage the test-takers to do their best.
"The K-2 students made cards of encouragement for the older kids," she said.
Maguy Yancey, elementary curriculum specialist at Carver, reminded her students that this is a big week ahead after the long weekend wraps up.
"But guess what? You can do this!" she told them. "The teachers have worked with you on how to do all those hard questions.
"Read carefully the prompt before you answer the question and take your time."
Educators are also reminding the third- and fourth-graders of the basics to know in preparing for the standardized end-of-grade tests.
"Eat a good breakfast. Get a good night's sleep. Just do your best," Ms. Anderson said.
The tests, for elementary and middle schools on the traditional calendar, are administered via the "testing window" that begins May 26 and ends on June 9, said Ken Derksen, spokesman for the district.
"Reading and math EOGs are scheduled for May 31 and June 1, respectively," he explained. "Other tests such as EOG science, CTE (career and technical education) assessments and N.C. final exams will be scheduled by individual schools within the prescribed window."
For high schools on the traditional calendar, he said, the testing window begins June 5 and ends June 9.
Other Local News