Gold Star Wife still grieves
By Joey Pitchford
Published in News on May 28, 2017 12:25 AM
Full Size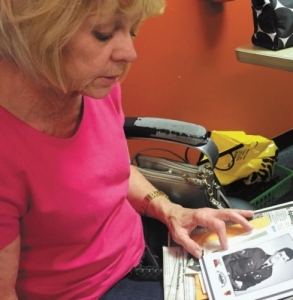 News-Argus/JOEY PITCHFORD
Brenda Albritton looks over photos of her husband, Dempsey Woodrow Parrott, who was killed in Vietnam in 1968. Albritton will represent fallen soldiers in several Memorial Day events.
Full Size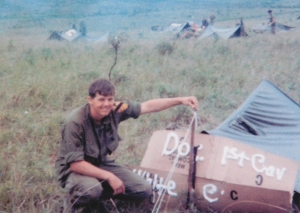 Submitted photo
Specialist Dempsey Woodrow Parrott poses for a photo in the field in Vietnam in the late 1960s. Parrott volunteered even though he had received a deferment.
Brenda Albritton lost her first husband in Vietnam nearly 50 years ago, but some days it is still hard to handle.
Ms. Albritton's husband, Spc. Dempsey Woodrow Parrott, was a medic with the Army when he was killed in combat in 1968. For years after his death, Ms. Albritton said, closure eluded her.
"They said I couldn't open the casket when his body was sent home," she said. "Even though his body was intact, I couldn't open it. So I didn't."
At the time, Ms. Albritton did not even know how Parrott had died. For years she struggled with the questions and the empty space she had been left with, not quite knowing how to pick up the pieces and move forward.
A small measure of comfort decades later helped her come back out of her shell. In 2014 Michael Brincheck, an Army friend of Parrott's, presented Ms. Albritton with a Bible which had fallen from Parrott's body after he was killed.
Having that book, something tangible to hold on to, meant the world to Ms. Albritton.
"It was his, knowing that he gave it all, that be believed in the Lord, that he trusted in the Lord," she said. "He was not afraid."
It was also revealed how Parrott had died. Assigned to the Blackfoot Platoon in Vietnam, Parrott's group came under ambush in the A Shau Valley. Responding to a call for a medic, Parrott rushed into the crossfire and was struck in the temple, killing him instantly. He was 22 years old.
Although this is a difficult thought to stomach, Ms. Albritton said that Parrott knew what he was getting in to when he went overseas. Although he had initially received a draft deferment because of his machinist job at Cherry Point, Parrott intentionally signed himself up after seeing his friends join the military.
"He wanted to serve his country; he didn't feel like he was doing his duty," Ms. Albritton said. "He didn't enlist, but he made it so he was next in line to be drafted."
Since Parrott's death, Ms. Albritton remarried, and although that marriage did not last it did leave her with two children. She said her son and daughter have both been supportive of her, and the grandchildren they have given her have been a source of solace.
Ms. Albritton knew that Parrott wanted to start a family, and while her children and grandchildren are not his, being able to focus her affections on them gives her a way to remember him.
Now, the usually-shy Ms. Albritton is beginning to become more active in veterans' affairs. She will attend events on Memorial Day sponsored by the Wayne County Veterans and Patriots Coalition as a Gold Star Wife, representing those who have fallen in combat.
"I've always just been really upset and never gotten involved," she said. "I'm a shy person, I'm not outgoing, but I think I've been more involved since I received the Bible. It's like I can't do enough to keep his memory alive."
Other Local News