Teenager dies after Sunday shooting
By Ethan Smith
Published in News on May 29, 2017 1:30 PM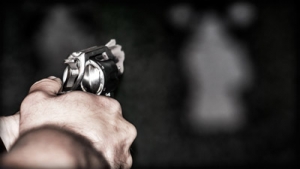 Goldsboro police are now investigating the Sunday shooting of an 18-year-old as a homicide after he died at Vidant Medical Center in Greenville, according to a press release from the Goldsboro Police Department today.
Desconte Makell Bryant, 410 Hollowell St., was found on the front porch of his home suffering from a gunshot wound at around 1 a.m. Sunday, according to the release.
He was taken to Wayne Memorial Hospital and then transferred to Vidant Medical Center, where he was listed in critical condition before he succumbed to his injuries.
Capt. LeAnn Rabun, supervisor of the patrol shift that responded to the shooting, said officers received both a 911 call and a ShotSpotter alert that made them aware of the shooting.
Rabun said she is unsure whether Bryant is related to anyone who lives at the address.
She added that she was not aware of any BOLO (be on look out) alerts for potential suspects or possible vehicles involved immediately following the shooting.
Bryant's killing marks the second homicide to happen in the 400 block of Hollowell Street this year.
In a shooting Jan. 18, 26-year-old Tyreek Dominick Moody died after police found him with a single gunshot wound to the head, according to reports from the time.
Another man was also killed by gunfire in the city early Saturday morning.
William Darryl Braswell, 36, 204 Augusta Drive, suffered at least one gunshot wound and died after being transferred from Wayne Memorial Hospital to Vidant Medical Center in Greenville, according to a press release.
Police say the shooting happened at 3:37 a.m. Saturday. Officers responded to 235 Wayne Ave. for a call of a person being shot and discovered Braswell there.
Rabun's shift also responded to that incident.
She said where Braswell was shot is a residential neighborhood between South Slocumb and South John streets, adding she was unsure of Braswell's relationship with whoever lives at the home.
"(Braswell) was not on scene when we got there," Rabun said. "There wasn't a whole lot when we got there. There was only a few people still at the house."
Goldsboro Police Chief Mike West did not return phone calls requesting further details about these cases.
Anyone with information about this crime, or any other crime in Wayne County is asked to call or text Crime Stoppers at 919-735-2255, or submit information at tipsubmit.com.
Callers can remain anonymous and information leading to a felony arrest will be eligible for a cash reward.