Wayne Christian seniors turn tassels
By Phyllis Moore
Published in News on May 28, 2017 12:25 AM
Full Size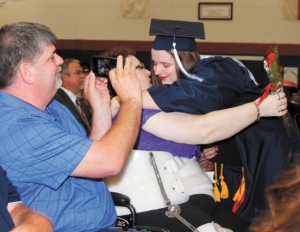 News-Argus/PHYLLIS MOORE
Joanna James, right, salutatorian for the Class of 2017 at Wayne Christian School, hugs her mother, Melody, as her father, Phil, captures the moment with his camera. Melody, in a full body brace and wheelchair following three hip surgeries since April 6, said she was determined to be at the ceremony.
Tyler Weeks showed up for his graduation ceremony at Wayne Christian School right on time Saturday morning, except for one thing.
He was wearing the wrong cap and gown for the class picture.
"He walked in and everybody goes, 'What are you wearing?'" said his mother, Beverly Weeks.
It was an honest mistake, considering he just graduated from Wayne Community College two weeks ago with his business certificate.
So home the family -- which also consists of father, Rick Weeks, and younger sister, Macy -- went to retrieve the attire that matched that of his 22 classmates.
Melody James was as determined to be at the ceremony as her daughter, salutatorian Joanna James.
"If I had to get an ambulance to bring me, I wasn't going to miss it," she said from her wheelchair.
Mrs. James has had three hip-related surgeries since April 6 and was in a full body brace.
Joined by her husband, Phil, and their older daughter, Rebecca, Mrs. James had more reasons than most to be proud of her high school graduate.
"We were told when (Joanna) was 2 years old she would never speak, that she would never learn to read normally and now she's the salutatorian," Mrs. James said.
Her youngest had 41 months of speech therapy, a distant memory as the salutatorian took to the stage to address her classmates.
The emotions ran high as Joanna faced the crowd. Fighting back tears, she paid tribute to her own "amazing person, my mama," quoting an oft-heard piece of advice received along the way -- "'Wherever you go or whatever you do, act like ya got some sense.'"
This year marked the 30th commencement ceremony at the school.
It was also a bittersweet occasion, as two beloved staff members were noticeably absent.
"These very dedicated members have graduated to heaven," said Dr. Ashely Shook, administrator.
Dr. Fred Clifford, the school's founder and for whom the auditorium is named, died this year.
Barbara Sheldon, who passed away due to esophageal cancer, was known for her stringent English classes.
Some said she was one of the hardest teachers at the school, Shook said, but when those same students got to college they were thankful they had a Mrs. Sheldon class.
"She was missed terribly this year," he said.
In her memory, Shook announced that the school board voted unanimously to name the library the Barbara A. Sheldon Memorial Library, unveiling a portrait of her that will be displayed there.
Clifford's son, Dr. Eddie Clifford, gave the commencement charge to the latest class of Eagles.
Using the right blend of wit and whimsy, he spoke about the necessity of having wisdom and putting it to use.
Very few of us, he said, start out intending to have regrets, fail or become the proverbial drama queen or the "greedy goober."
"But somewhere along the way the unthinkable becomes thinkable becomes done," he said.
Instead of all the "if onlys," he challenged the graduates to choose to put their wisdom to use, by caring.
"Life has a way of beating the care out of you," he said. "This is such a precious gift to have -- I can care, I will care, I do care."
Valedictorian Justin Graham rattled off examples of successful people who could have been considered failures, had they quit early on.
"The path to success is paved with failure, and that shouldn't deter us," he said. "Rather than seeing failures as the result of our insufficiency, let's see them as stepping stones that lead us ever closer to success.
"Facing the adversity of those that seek to put us down can be seen not as an impenetrable brick wall but rather as a hurdle for us to climb."
Other Local News