Fire damages mobile home, could displace resident
By Ethan Smith
Published in News on May 16, 2017 9:57 AM
Full Size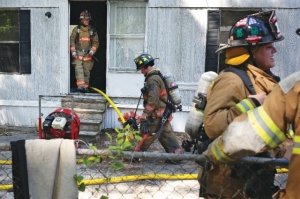 News-Argus/CASEY MOZINGO
Firefighters use a fan to blow smoke out of a trailer on Legion Lake Drive late Monday morning after a neighbor called in a fire that originated in the kitchen.
A fire Monday morning at lot 152 off of Legion Lake Road damaged a mobile home and could displace the resident, according to fire officials.
Lt. Chris Cato with the Mar-Mac Volunteer Fire Department said the cause of the fire was a stove burner being left on inside the home.
He said the home could be a total loss and displace the person living there due to the age of the trailer, but he was not sure.
Nobody was home at the time of the fire around 10 a.m., Cato said.
"The whole kitchen will have to be redone," Cato said.
Cato said the fire was contained to the kitchen, which was badly damaged.
Dudley Fire Department and Thoroughfare Volunteer Fire Department also responded to the fire.