First round of high school graduations begins this week
By Phyllis Moore
Published in News on May 16, 2017 9:57 AM
Full Size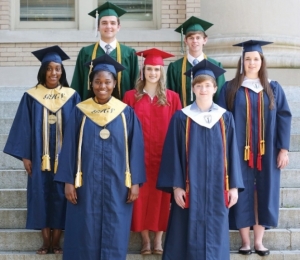 News-Argus/CASEY MOZINGO
Valedictorians and salutatorians chosen from private schools and Goldsboro High School, which is operating on the Wayne Community College schedule this year, have been selected as the first round of graduation ceremonies start later this week. Front row from left, Sharmane Powell, Goldsboro High School salutatorian; and Justin Graham, Wayne Christian School valedictorian. Middle row from left, Naquana Sessoms, GHS valedictorian; Aimée Barnes, co-valedictorian at Wayne Country Day School; and Joanna James, Wayne Christian salutatorian. Back row, Faith Christian Academy valedictorian Ethan Glover, left, and salutatorian Dylan Downey. Absent was Mitchel DeBoskey, co-valedictorian at Wayne Country Day.
Full Size

Mitchel DeBoskey, co-valedictorian at Wayne Country Day School
The first round of high school graduations kicks off later this week, with a smattering of public schools mixed in with the private school commencement ceremonies.
Faith Christian Academy, celebrating its 50th anniversary this year, will hold its event on Friday evening at 7 p.m. at Faith Free Will Baptist Church.
The school has 12 graduates.
Valedictorian is Ethan Glover. He will be attending Pensacola Christian College and has not declared a major. Salutatorian Dylan Downey said he will attend Wayne Community College in the fall, later transferring to East Carolina University to pursue studies in the medical field.Wayne School of Engineering graduation ceremony will be Wednesday, May 24, at 6 p.m. in the Goldsboro High School auditorium. The school does not select a valedictorian or salutatorian, but will have several student speakers at the ceremony. Wayne Country Day School ceremonies will be Thursday, May 25, at 11 a.m. at Paramount Theatre.
There are 20 graduates in the Class of 2017, with the school having co-valedictorians this year sharing the honor.
Aimée Barnes will be studying civil engineering with a double minor in computer science and Spanish at the University of Virginia at Charlottesville.
Mitchel DeBoskey will be pre-med at University of Notre Dame.
Carolina Brass will provide music for the event and Lorre Gifford will do the faculty address. Senior class president Allison Willman will present the class gift.
That Wednesday evening at 6 p.m., Wayne Early/Middle College High School will have its event at The Bridge Church in Princeton. The school does not select a valedictorian or salutatorian, but traditionally features student speakers on the program.Goldsboro High School graduation will be Friday evening, May 26, at 6 p.m. on the football field. There are 122 candidates for diplomas. Naquana Sessoms is valedictorian. She plans to attend N.C. State University and study international business.
Salutatorian Sharmane Powell will be pursuing studies in mechanical engineering at N.C. A&T State University.
Wayne Christian School has 23 graduates this year. Their ceremony will be Saturday, May 27, at 10 a.m. at the school.
Valedictorian is Justin Graham. He will be attending UNC-Chapel Hill and studying computer science or graphic design. Salutatorian Joanna James will be attending Wayne Community College before transferring to a four-year institution and pursuing her studies in music education.