Sign erected as tribute to fallen teenage Marine
By Joey Pitchford
Published in News on May 16, 2017 9:57 AM
Full Size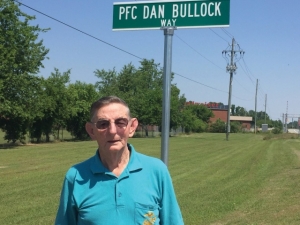 News-Argus/JOEY PITCHFORD
Marine chaplain Bill Boyd stands with the PFC Dan Bullock Way sign outside Elmwood Cemetery. Boyd worked for years to have the sign put up as a tribute to Bullock.
Full Size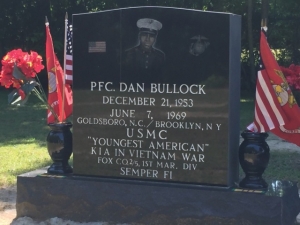 News-Argus/JOEY PITCHFORD
The grave of Private First Class Dan Bullock is shown. Bullock was the youngest American killed in the Vietnam War when he was killed at age 15.
The grave of Pfc. Dan Bullock sits in a shady corner far in the back of Elmwood Cemetery.
Bullock, who died in the Vietnam War at age 15 after forging his birth certificate, was the youngest American killed in combat in that conflict. His grave, which lies with those of his mother and grandmother, was unmarked until talk show host Sally Jessy Raphael paid for a headstone in 2000.
Even so, one would have had to go far out of their way to find evidence of Bullock's sacrifice. Now, finally, that is no longer the case. At the entrance to the cemetery where Bullock rests, a sign reading "PFC Dan Bullock Way" now stands.
For the past seven years, Marine chaplain Bill Boyd has been working to erect the sign somewhere in the city in honor of Bullock. Boyd said he saw something of himself in Bullock, having run away from an orphanage at age 15 himself.
"If I could've joined the Marine Corps then, I would have," he said with a smile. "But I only weighed 80 pounds."
Bullock died June 7, 1969, in the Quang Nam province of Vietnam, after his position came under heavy enemy fire. Volunteering to run through the gunfire for ammunition, Bullock was shot down during his second run.
The Marine Corps did not pay for a headstone because of his fraudulent enlistment. Boyd took issue with this.
"He may have fraudulently enlisted, but at age 15 he was a Marine. He was a Marine's Marine," he said.
The street sign has been up for days, but Boyd will officially dedicate it at 2 p.m. on May 27. He is hoping that any members of Bullock's family who still live in the Goldsboro area will attend, as he has lost contact with those that he knew.
"I had contact with Gloria Barnes, his sister, but I've lost contact with her," he said. "If there is any member of his family out there who can make it, we would love to have them."
Standing in front of Bullock's grave, Boyd took a moment to salute and then readjust the American flags on either side of the headstone. He said that, regardless of his enlistment status, Bullock is a hero to be remembered.
"He was the kind of Marine you would want for a buddy because he volunteered to go out there and grab ammo," he said. "He actually took that position over for someone else. He was a hero to his Marines."