GHS holds College Signing Day
By Phyllis Moore
Published in News on May 7, 2017 1:45 AM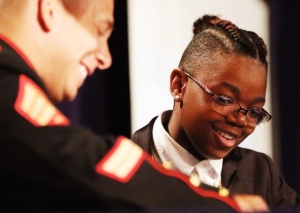 News-Argus/CASEY MOZINGO
Senior Mya McIntyre smiles as the signs a certificate of commitment to join the Marines after graduating Goldsboro High School this year. Students gathered in the auditorium for the annual event that is designed to encourage them to plan for the future by pursuing education after high school.
Full Size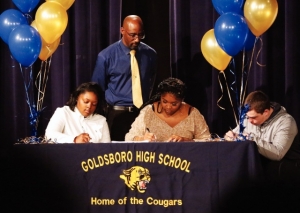 News-Argus/CASEY MOZINGO
Full Size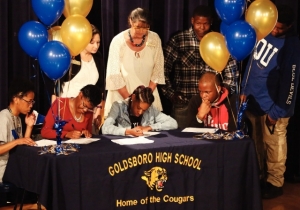 News-Argus/CASEY MOZINGO
Students who are planning on attending Wayne Community College after graduation sign certificates of commitment during the annual Goldsboro High School signing day event in the auditorium on Friday
More than 50 students from the 120-member senior class at Goldsboro High School got the jump on making plans for college Friday, participating in College Signing Day at the school.
The schoolwide assembly provided an opportunity for students who have been accepted by a college or intending to enter the military after graduation, to publicly sign a "certificate of commitment."
"You do not have to be an athlete to sign -- a lot of time we see athletes sign a letter of intent," Principal Robert Yelverton explained to the student body. "We decided to celebrate those academic signings."
Thirteen colleges and universities and three branches of the military were represented at the ceremony.
It was a momentous day for the seniors anticipating graduation in a few weeks.
"College has always been something we looked forward to," said Natiana Barnes, who applied to N.C. State University and East Carolina University. "I was looking for somewhere with a good medical program."
She aspires to be a cardiovascular surgeon, she said.
It was a close race between the two schools, and she was accepted to both but settled on N.C. State.
The middle child in her family, her older brother paved the way by going to college, she said.
For college-bound classmate Araselys Cash, criteria for a college was one that offered a good physical therapy program as well as performing arts.
"I applied to six or seven places," she said. "I got accepted into all of them but wanted to go to Winston-Salem State University. They have a good program in physical therapy. They're like in the top five in the state."
Moments before the students were called up to the stage to make their intentions official, they admitted they had mixed feelings.
"It's a privilege because not all high schools have college signing day," Miss Cash said.
"It's a little nerve-wracking sometimes but it's also a bittersweet feeling," Miss Barnes said of the process.
"It's not the graduation but the days leading up to graduation. There's so much to do," Miss Cash added.
The enormity of the occasion was not lost on the underclassmen.
Juniors Jhazmine Lassiter, Jacoby Oliver and Korrie McEachern were chosen as marshals for the assembly.
"It's getting me very excited because I'm ready for my turn to go up and sign for my college," Oliver said. "I'm ready to go to college. It's kind of getting me prepared for next year."
His goal is to attend Howard University, he said, to major in computer engineering.
Miss Lassiter has her sights set on N.C. Central University to pursue a degree in elementary education and also study mathematics.
"This is like your foundation, everything we're going to go through, knowing that graduation is just around the corner," she said.
Miss McEachern is undecided about the future, narrowing down the destination to four colleges. The frontrunner, though, is Juilliard, as she wants to study dance.
Signing day, she said, has always been one of the highlights.
"I have been watching all this since I was in the ninth grade," she said.
Yelverton told the students and parents in the audience that the school's mission is to prepare the diverse population for whatever lies ahead -- higher education, the military or entering the workforce.
"Your time here at Goldsboro High School is valuable," he said, encouraging the underclassmen to also take note.
"See what the requirements are for these colleges and universities," he said. "Be mindful of your grades leading up to graduation. (They're) looking at community projects and those things, too.
"Don't wait until your senior year. Start having these conversations with your teachers and guidance counselors. We want to have so many signing for colleges and universities and going into the military that we'll have to bring in more chairs and use our balcony. Work hard so you'll be on this stage next year."