Nearly 360 students graduate from UMO
By Joey Pitchford
Published in News on May 7, 2017 1:45 AM
Full Size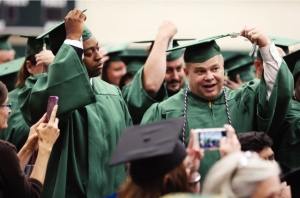 News-Argus/CASEY MOZINGO
Members of the Class of 2017 turns their tassels together Saturday during the 63rd commencement at the University of Mount Olive.
Full Size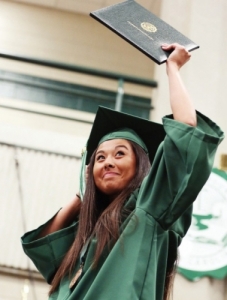 News-Argus/CASEY MOZINGO
Emerald Eagle Barron raises her diploma as she walks across the stage in Kornegay Arena Saturday.
Full Size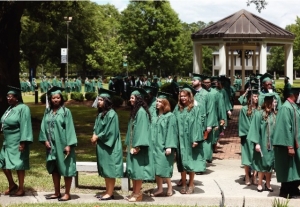 News-Argus/CASEY MOZINGO
Graduates of the University of Mount Olive line up before commencement Saturday.
Darrah Lobo-Caves had been waiting for graduation day for a long time.
A mother, an Air Force veteran and a student at the University of Mount Olive since 2013, Mrs. Lobo-Caves stood in the Pope Wellness Center Saturday waiting with hundreds of her fellow students for the 2017 graduation ceremony to begin. After some setbacks along the way, she said she was more than ready to get her degree.
"It's been a long time coming," she said. "I had a few car accidents that delayed my graduation, and a few other things, and that set me back a bit."
Mrs. Lobo-Caves was excited as she waited, pointing out one of her advisors who stopped to take a photo of her.
"She has signed the graduation papers for me four times now, this one is the last," she said with a laugh.
Mrs. Lobo-Caves graduated Saturday with a bachelor's degree in business administration and management with a minor in human resources. As a mother and with her husband an active-duty airman on Seymour Johnson Air Force Base, the determination to push through the obstacles in her way came from her children, she said.
"My kids made me stick with it," she said. "I want to teach them that, when life sets you back, you keep going, and you don't give up. They'll learn that better from seeing it than from hearing it."
Soon, Mrs. Lobo-Caves and nearly 360 other students walked to Kornegay Arena, where a packed audience awaited them and the graduation ceremony. The commencement speaker was Janie Jaberg, president and chief executive officer of Wayne UNC Health Care, who told the story of how she began her career as a registered nurse.
Mrs. Jaberg said that, when trying to get in to nursing school, her advisor told her she simply "wasn't smart enough" to get in, citing her math grades. Mrs. Jaberg said she returned to school, earned a degree and came back to show her advisor.
"She said, and remember this, 'I was wrong. You can do it," she said.
Mrs. Jaberg urged the students to believe in themselves and to keep their families close as they move out into the world. She said that the future is wide open if one works hard and doesn't give up.
"My advisor, she's gone now, but I always wondered what she might be thinking," she said. "That girl who just wasn't smart enough is now with her team leading a multi-million dollar corporation to help patients."
After Mrs. Jaberg's speech, a graduate was recognized for her scholastic achievement. Mount Olive resident Kaylee Aneia Wells received the Dr. Thomas R. Morris award for graduating with a grade point average of 3.94, earning a degree in chemistry as well as minors in both physics and religion. The award and the $3,000 check that came with it, had been something of a goal of Ms. Wells.
"I've been a marshall for years, so I knew about the award, and I kind of wanted to go for it," she said. "I knew it had come down to me and like one other person, but I wasn't going to be upset if I didn't get it."
Leaving her undergraduate career, Ms. Wells is looking forward to heading to N.C. State University to enter the chemistry doctoral program. As for her monetary award, she said she would be paying student loans.
After she gets her doctorate, Ms. Wells has plans for how she would like to proceed. She said she hopes to work in an industry before coming back to a small university like UMO to teach.
Ms. Wells thanked her professors for their support and encouragement.
"My professors made class intriguing and fun, and they also pushed us hard to succeed," she said.