Roads reopen after flooding
By Steve Herring
Published in News on May 8, 2017 8:02 AM
Full Size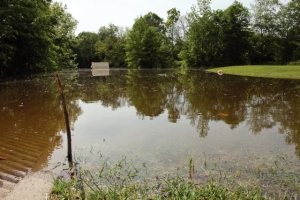 News-Argus/STEVE HERRING
Flooding of the Neuse River topped out at more than 24 feet last week after heavy rains.
All Wayne County roads closed by flooding that resulted from heavy rains late last month have reopened with the exception of Pecan Road.
A section of that road near Arrington Bridge Road remains closed to repair damages caused by the flooding.
Anticoh Road near Pikeville was also closed because of flooding and is expected to remain closed until 5 p.m. Thursday, but not because of the recent flooding.
Rather, it is closed in order for the state Department of Transportation to remove and replace a drainage pipe damaged during Hurricane Matthew last year.
Motorists can detour around the area by taking Big Daddy's Road to N.C. 111 back to Anticoh Road.
The flood warning that had been in effect for the county has been lifted.
As of 7 a.m. today, the Neuse River had fallen to 14 feet -- 4 feet below its 18-foot flood stage and almost 11 feet below its 24.88-foot crest on Sunday, April 30.
The river level is forecast to remain steady until late Tuesday when it is expected to begin rising again as water is released from Falls Lake Dam at Raleigh.
It is expected to reach 15 feet by early Friday morning.
The Army Corps of Engineers, which operates the dam, does not expect the river to rise much higher than the 15 feet, said Mel Powers, Wayne County Office of Emergency Services director.
Water has been released from the dam for about a week and a half and should continue for another week, he said.
The current flow rate is 6,000 cubic feet per second.
Some minor flooding can be expected, but no roads should be affected at 15 feet, Powers said.
There were several water rescues during the height of the flooding, but no injuries have been reported, Powers said.
Powers said he has received no reports of homes being damaged by the flooding, but that there will be some agricultural losses in crops.
Two greenhouses were damaged as well, he said.
Powers said he does not have an estimate on those losses.
Other Local News