Law Enforcement United rolls through Goldsboro
By Joey Pitchford
Published in News on May 8, 2017 9:57 AM
More photos for this story are available in the

Full Size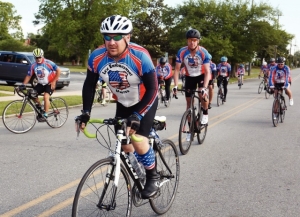 News-Argus/CASEY MOZINGO
Participants in the annual Law Enforcement United 12-day bicycle ride from Brunswick, Georgia, to Washington, D.C., leave the Goldsboro Police Department Saturday.
A law enforcement cycling team on its way to Washington, D.C., made a stop at the Goldsboro Police Department Saturday afternoon, pausing briefly to rest and pray before moving to their hotel for the night.
Law Enforcement United is an annual event which draws cyclists from all over the country to ride in remembrance of fallen law enforcement officers, as well as to honor those who currently serve. Participants must be active or retired law enforcement or surviving family members of those who have died. Each must raise $1,500 to take part, which is used to fund the Concerns of Police Survivors camp for the families of officers killed in the line of duty.
Cyclist and LEU member Tommie Booth said that the ride is a way to keep the memories of fallen officers alive.
"This is our way of honoring those who made the ultimate sacrifice, while making sure we remember the survivors who are still here and their struggles," he said.
The COPS camp provides activities for surviving family members, as well as counseling to help them deal with their loss. The camp is completely funded by the LEU ride, which started May 1 in Brunswick, Georgia, and will conclude in Washington, D.C., on May 12.
Last year, Booth said, the organization was able to donate $150,000 to the camp.
The team of 38 riders and 10 support staff - people driving trucks towing food, water and other supplies - will continue on to Kinston, Greenville, Bethel and Rocky Mount. Following that, they will head for Danville, Virginia, and eventually Roanoke, Virginia, where they will meet with other riders to begin the "three-day ride" to Washington.
Other Local News