Site work for new Dunkin' Donuts begins
By Rochelle Moore
Published in News on May 6, 2017 12:59 PM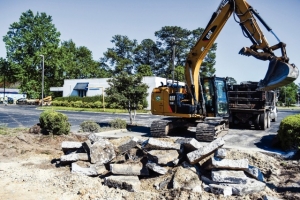 News-Argus/SETH COMBS
Grading and landscaping company, Barbour Brothers Construction, has closed both entrances to the property at 500 North Berkeley Blvd. as they work to build a new Dunkin Donuts.
Landscaping and other site work recently started at the future location of Dunkin' Donuts on North Berkeley Boulevard near Cashwell Drive.
Crews with Barbour Brothers Construction are removing two entrances along Berkeley Boulevard that previously allowed access to the property, at 500 N. Berkeley Blvd.
Work on the building, the former location of PNC Bank, is expected to start soon, and a building permit is pending approval, said Allen Anderson Jr. Goldsboro chief building inspector.
Site and building plans for the property were submitted to the city last year but have since been revised, showing that the building will be subdivided.
"From what I'm seeing, they're going to subdivide the building, with Dunkin' Donuts on one side, and I'm not sure about the other side," Anderson said. "They're going to condense everything in that 1,840 square feet."
More than half of 3,478-square-foot building includes 1,840 square feet of space for a Dunkin' Donuts and Baskin Robbins. The remaining 1,476 square feet will be renovated for use by a future tenant, Anderson said.
Following the closing of two North Berkeley Boulevard entrances, customers will have access to the property from an entrance near the Waffle House and from Cashwell Drive.
Company officials were not able to provide an estimated opening date for Dunkin' Donuts or Baskin Robins.
Plans to add a free-standing Dunkin' Donuts has been in the works at least two years, with earlier plans to open a new store on Berkeley Boulevard near Mattress Firm.
Other Local News