Pizza Hut remains open after small fire
By Brandon Davis
Published in News on May 5, 2017 10:55 AM
Full Size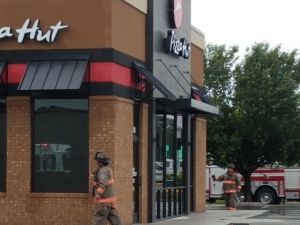 News-Argus/BRANDON DAVIS
The Goldsboro Fire Department walked around the exterior of Pizza Hut Friday morning check for any smoke or gas.
The Goldsboro Fire Department responded to the Pizza Hut on Ash Street this morning after paperwork from the side of a water heater fell on a burner.
Assistant Chief Eric Lancaster said a restaurant manager called the department at 8:58 a.m. when the manager smelled smoke in the rear of the restaurant, located at 2518 E. Ash St.
Lancaster said firemen responded to a smoke investigation and discovered ashes from a water heater's paperwork.
He said the paperwork was in a plastic bag attached to the water heater.
"There was basically no damage than other to the paperwork itself," he said.
Lancaster said a manager and an employee were in the building when they smelled smoke, but he said no was injured.
He said the restaurant should be back up and running shortly.
"Hopefully in the next hour, they'll be ready to make some pizzas."
Other Local News