Man arrested for stabbing woman in the hand
By News-Argus Staff
Published in News on May 1, 2017 3:14 PM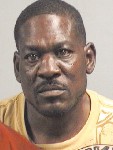 Samuel Jermaine Holloman
A man allegedly stabbed a woman in her left hand Sunday night, according to the Goldsboro Police Department.
Samuel Jermaine Holloman, 42, of 159 Running Deer Circle in Dudley, and the woman got into an argument over another woman in the 900 block of Evergreen Avenue at 11:45 p.m., according to a report.
The woman was taken to Wayne Memorial Hospital, and both Holloman and the woman had visible signs of injuries, according to the report.
"I do not know the condition of the female," Maj. Dwayne Dean said.
He said Holloman was arrested and charged with assault with a deadly weapon. Holloman was placed in the Wayne County jail under a $1,000 secured bond with a court date set for June 12.