State presents chilling video
By Ethan Smith
Published in News on May 2, 2017 9:57 AM
Full Size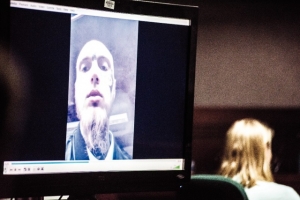 News-Argus/SETH COMBS
Cell phone video filmed by defendant Kenneth Morgan Stancil III is shown to the jury in courtroom five at the Wayne County Courthouse Monday during the seventh day of Stancil's murder trial. In the video, made before to the death of Ron Lane, Stancil justifies the killing in a series of racist and homophobic slurs and concludes with a message of love for his friends and family.
Full Size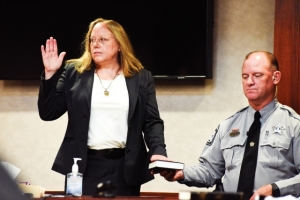 News-Argus/SETH COMBS
The state calls expert witness forensic pathologist Dr. Susan Venuti, who was the chief medical examiner in the autopsy of shooting victim Ron Lane, during the seventh day of the murder trial of Kenneth Morgan Stancil III at the Wayne County Courthouse on Monday.
The state rested its case Monday in the first-degree murder trial of Kenneth Morgan Stancil III after showing the jury a racist, xenophobic and homophobic soliloquy Stancil recorded before the killing of Ron Lane.
Stancil is on trial for killing Lane the morning of April 13, 2015, inside the print shop on Wayne Community College's campus.
His defense attorney, Walter Webster, has admitted to the court and the jury from the outset of the trial that Stancil shot and killed Lane.
Prosecutor Matt Delbridge showed the video, recorded selfie-style on Stancil's cell phone, at the tail-end of the day.
The video lasted about 31 minutes.
Stancil recorded the video inside a barn on the Stancil family's property in Dudley prior to going out and shooting Lane in the head with a 12-gauge shotgun.
The video began with Stancil saying by the time anyone watched it, "the deed would be done." He stopped short of identifying who he would be killing, instead saying people would see it on television.
"I left this for y'all so y'all could kind of see me one last time, because next time you see me I'll be on TV," Stancil said at the start of the video. "When the law finally catches me they'll probably put me in prison for life. It ain't no big deal, you know. People that are inside share my same political views. I'll get along perfectly. I'm pretty big, I can handle myself."
As the video progresses, Stancil lays out his reasons for killing Lane.
The video revealed Stancil said he was going to kill Lane because Lane was gay, and Stancil believed Lane was a child molester, had inappropriate interactions with Stancil's younger brother, Nick, and caused Stancil to lose $1,000 after Lane fired him for not showing up for work.
Stancil claimed Lane was sending his brother inappropriate Facebook messages, but no evidence has been presented to that effect, and Nick Stancil himself denied it during his own testimony.
"When he was trying to look me up on Facebook, he found my little brother's profile and started sending my little brother explicit messages and (homophobic slur) messages," Stancil said. "My little brother, he's not gay. He's only 17 years old. He ain't (expletive) gay. You know what I mean? We raise our people right. When you raise a child right, they won't be gay."
Nick Stancil testified in the trial Friday and denied Lane ever acted inappropriately toward him, saying the extent of the interaction was Lane liking two photos on Nick's Facebook and adding him on the social media site.
Throughout the expletive and profanity-laden diatribe, Stancil repeatedly calls Lane homophobic slurs and disparages minorities, including using derogatory terms for black, Hispanic and Jewish people.
"This person had to die because one, he was a (homophobic slur) -- he was a poison to the country," Stancil said. "And on a second note, I had to work under this person. I had to put up with his stupidity. All stereotypes about homosexuals are true -- (homophobic slurs) are (expletive) morons. They're idiots, they're fiends and they're deviants -- every single one of them. I hate (homophobic slurs)."
Stancil also made a bizarre claim in the video, saying he did not have a Facebook page of his own because "the CIA has owned Facebook for about eight years."
Stancil also said in the video he planned to have as much fun as possible and live it up before law enforcement caught up to him, which he believed would be a long time.
"By the time y'all see this, I'll already be a thousand steps above the law because I'm going to be in and out so fast, and be gone so quick, that I'll be at my destination before the law can even figure out what all happened because nobody has seen me in this form yet," Stancil said. "It's going to take a while for them to catch me. I'm going to be living the good life -- can't tell you where I'm going -- but I'm going to be living it up as much as I can before I get caught."
He was caught sleeping on the beach in Daytona Beach, Florida, less than 24 hours after killing Lane.
At one point, Stancil instructs his family on how much to feed his dogs and discusses possessions he wants to leave to his uncle and brothers.
As the video continued, Stancil claimed he's always been "attracted" to killing and hurting people. He also ponders what it will be like in prison, claiming he'll be able to do everything he wants to do even when he is incarcerated.
At the end of the video, Stancil signs off by telling his family he loves them and says he is doing the world a favor.
When the video finished playing for the jury, a stiff silence overtook the courtroom for several moments before the state announced it had rested its case against Stancil.
The video got into the hands of investigators after Stancil's family found the micro SD memory card it was stored on.
Stancil's mother, Debbie, called her boyfriend John Potter -- who is a corrections officer and testified in the trial Monday -- to inform him about what the family found prior to police searching the property.
Potter testified he did not watch the video, but read the letter Stancil left that it was attached to and took both items to the Goldsboro Police Department with Debbie Stancil accompanying him.
Detective Lt. Shawn Harris with the Wayne County Sheriff's Office testified Monday he met Potter and Debbie Stancil at the police department to collect the memory card and note.
The court also heard testimony from Dr. Susan Venuti, who performed the autopsy on Lane's body.
Venuti said she recovered eight shotgun pellets and "plastic wadding" from Lane's skull. Plastic wadding is what holds the pellets inside a shotgun round, and Venuti said Lane was shot from such a close range, the plastic entered his skull instead of falling away as it would if he was shot from a distance.
Photos from Lane's autopsy were shown to the jury despite them already having seen photos from the crime scene. Webster objected to this, saying it would unfairly prejudice the jury against Stancil because of their gory and graphic nature, but the objection was overruled.
Cpl. Trevor Albaugh with the Goldsboro Police Department also testified about several pieces of evidence recovered from the Stancil's property. These items were knives, brass knuckles, Ku Klux Klan memorabilia, ammunition for a shotgun and AR-15 and several other items.
Court recessed for the day after Webster motioned for the court to dismiss the first-degree murder charge against Stancil, saying Delbridge had not proved the state's case.
Superior Court Judge Jay Hockenbury, who is presiding over the case, denied the motion.
Court will continue today at 9:30 a.m. with the defense putting on any evidence and testimony it may have.
Contingent on what the defense team does and how long it takes, jury deliberations in the case could begin today.
Other Local News