Poppies row on row
By Becky Barclay
Published in News on May 2, 2017 9:57 AM
Full Size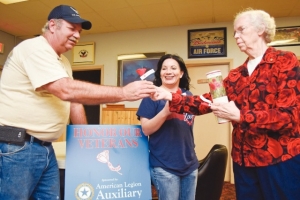 News-Argus/SETH COMBS
American Legion Assistant Chaplain Louise Jinette, right, gives a poppy to Gulf War veterans Ron Medus and Gina Evans at the American Legion building.
Full Size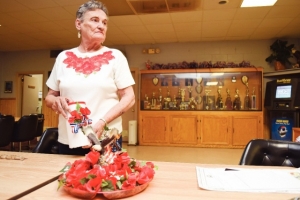 News-Argus/SETH COMBS
Laura Snell stands with an arrangement of poppies at the American Legion building. These poppy arrangements are made to be displayed for Veterans Day.
Full Size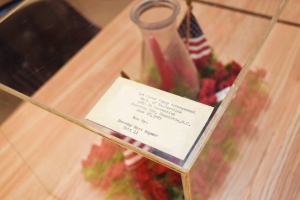 News-Argus/SETH COMBS
A poppy arrangement is displayed in a protective plexiglass case at the American Legion building.
Red poppies will be abundant in Wayne County May 26 and 27 during Poppy Days. It's a project that the American Legion Auxiliary does -- and has done since 1923 -- to help veterans.
Auxiliary members will be at various places throughout the county that day from 10 a.m. to 4 p.m., including Food Lion in Mar Mac and on U.S 117 South, Sam's Club, Carlie C's and the commissary and BX at Seymour Johnson Air Force Base.
"We have our poppy cans and bunches of paper poppies," said auxiliary member Laura Snell. "We also have small pieces of paper that tell what the poppy represents. We give them to people passing by."
Anyone wanting to make a donation can drop it in the poppy can.
The auxiliary hands out paper poppies that veterans have made. The auxiliary purchases them from the veterans in Durham. It's an extra way for the veterans to make extra money for their needs.
"Donations go to the VA hospitals," Ms. Snell said. "It's spent on nobody but the veterans themselves. If they need food or clothing or special things, that's what the money is for. If they can't provide a Christmas for their family, it can go for that, too."
Auxiliary member Marlene Short said four times a year the auxiliary sends money to the VA Hospital in Fayetteville.
The auxiliary has also helped a veteran with expenses after his home was flooded during a storm. And it has helped veterans with electric bills.
Auxiliary member, 93-year-old Dot Raymer has helped distribute poppies every year but the past couple of years. She also makes corsages and centerpieces out of poppies for the auxiliary to use at various functions.
The poppy has become a nationally known and recognized symbol of sacrifice, worn by Americans to honor those who served and died for this country.
In November 1918, Moina Michael bought a bouquet of poppies and handed them to businessmen where she worked. She asked them to wear it as a tribute to the fallen.
In 1923, the poppy became the official flower of the American Legion in memory of soldiers who fought on the battlefields during World War I.
The poppy gained prominence as a lasting symbol of the military's sacrifice in the famous wartime poem "In Flanders Fields" written on the battlefront by Lt. Col. John McCrea, M.D., during World War I. It begins, "In Flanders Fields the poppies blow/ Between the crosses row on row ..."
Today more than five million poppies are made each year by disabled veterans and bring in almost $2 million in contributions.
"We believe in what we're doing," Ms. Snell said. "We know it's in great need."
"I do it because my father gave his life in World War II," added Ms. Short.
Other Local News