Jury finds Kenneth Morgan Stancil III guilty of first-degree murder
By Ethan Smith
Published in News on May 2, 2017 3:52 PM
Full Size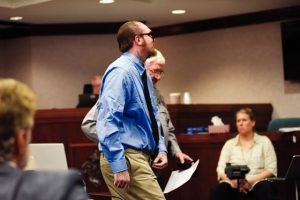 News-Argus/SETH COMBS
Kenneth Morgan Stancil III walks out of courtroom five after being convicted of first-degree murder.
Full Size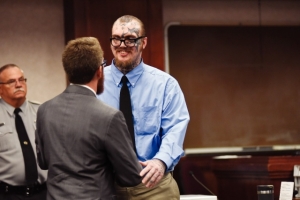 News-Argus/SETH COMBS
Kenneth Morgan Stancil III smiles after being convicted of first-degree murder in Wayne County Superior Court this afternoon.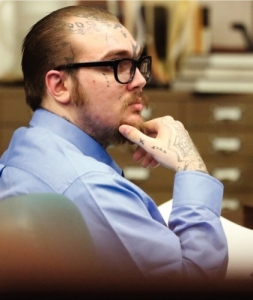 News-Argus/SETH COMBS
Kenneth Morgan Stancil III will serve life in prison without parole after being found guilty of first-degree murder today in Wayne County Superior Court.
Stancil killed Wayne Community College print shop technician Ron Lane April 13, 2015, on the school's campus.
The jury's verdict came after about an hour and a half of deliberation and was delivered after the court reconvened from a lunch recess.
The trial started April 21.
District Attorney Matt Delbridge prosecuted the case. Walter Webster was Stancil's defense attorney.
Superior Court Judge Jay Hockenbury presided over the case.
When court reconvened this morning Webster announced the defense team would not be putting on any evidence or testimony after the state rested its case Monday.
This allowed the court to move directly into a charge conference before giving the jury its instructions for deliberation.
Webster did renew a motion filed Monday afternoon to dismiss the charge against Stancil, but it was again denied by the court.
The defense team admitted from the start of the trial Stancil shot and killed Lane, leaving the state to prove the killing was premeditated, deliberate and malicious.
A multitude of law enforcement officers testified about the events that unfolded the day of the killing and the subsequent investigation.
Delbridge also played for the jury during the trial an explicit and profanity-laden video Stancil recorded before killing Lane, in which he laid out the reasons he felt the killing was justified.
Stancil's brother, Nick, also gave testimony during the trial and put to rest swirling rumors that Lane had acted inappropriately toward him.
During closing arguments heard this morning, Delbridge argued Stancil planned the killing in a way that would bring him maximum attention, choosing to kill Lane on a college campus instead of at Lane's home.
Delbridge told the jury there could not be a doubt about whether or not Stancil planned out the killing and acted with malice.
He pointed to the roughly 31 minute long video Stancil recorded himself before killing Lane in which Stancil makes derogatory claims against minorities and homosexuals, ponders what life in prison will be like, maps out his reasoning for killing Lane and leaves instructions on what to do with his possessions after he ran from law enforcement.
Delbridge replayed the audio from that video during his closing argument, selecting several key quotes that included Stancil saying he would use a shotgun in the murder to make sure he left a bloody mess.
Delbridge also replayed surveillance video from the college that day that shows Stancil pausing outside the print shop, getting a sip of water and then pulling a shotgun from a duffel bag and walking into the room.
"Do you have a reasonable doubt about what's going to happen next?" Delbridge asked the jury. "Do you?"
In his closing argument, Delbridge also pointed out Stancil used money he earned by working in the print shop under Lane to buy the shotgun he would eventually use to kill Lane.
Delbridge also argued Stancil had a brief conversation with Lane prior to killing him to get the satisfaction of seeing Lane have the realization he was going to die.
Webster argued against this, saying the murder was not premeditated.
He pointed to surveillance video that showed Stancil walking around the college campus before going to the print shop. That video showed Stancil going to the Hocutt building and using the bathroom, then returning to his car parked beside the Wayne Learning Center.
Then, Stancil got out of his car with a duffel bag with a shotgun inside and went back to the Hocutt building to use the bathroom again.
The video shows he then left that building and went to the print shop.
Webster argued Stancil's multiple passes by the Wayne Learning Center before going in and shooting Lane showed he was indecisive, and had not made up his mind about killing Lane.
Webster said in the 22 seconds Stancil spent inside the print shop before running out after shooting Lane, a lot can happen.
To illustrate how a conversation can escalate, Webster used a timer on his iPhone to tick off the seconds before he yelled "(expletive) you," three times, just as Stancil did, and saying he then ran out the door. He argued much more can happen than anyone might realize in 22 seconds, and the mood can change in an instant.
Webster argued the conversation that escalated to Stancil yelling "(expletive) you!" at Lane before shooting him in the face with a 12-gauge shotgun should cast reasonable doubt on the killing being premeditated.
Webster further pointed to testimony given by witnesses that said Stancil was not a white supremacist and had minority and bisexual friends to argue the point that Stancil had no malice toward Lane, who was gay.
Webster argued evidence presented against Stancil that included white supremacy memorabilia, knives and hand written notes, all found on the Stancil family property in Dudley, was only presented to make the jury fear Stancil.
Closing arguments ended just before noon today.
When the jury delivered their verdict around 3:30 p.m., Stancil took a sip from a water cup, just as he took a sip of water from a fountain before killing Lane.
After the verdict was delivered, Webster asked the jury be polled individually about the verdict.
All 12 jurors affirmed the verdict when polled individually.
None of Lane's family was present after the conviction to comment on his behalf.
Stancil's uncle, Chris Stancil, and his mother, Debbie Stancil, spoke to the court after he was convicted.
"I love my son dearly, I always will. He has a good heart," Ms. Stancil said. "I wish things would've turned out differently, because he is my world, and he is my heart, and I'll be there for him forever."
Stancil himself elected not to say anything after being convicted of first-degree murder.