Residents approved for hurricane disaster grants
By Steve Herring
Published in News on September 10, 2018 5:50 AM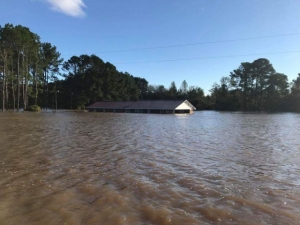 Submitted photo
The home of Carlton and Renee Hinson in the Hood Drive area of Grantham was nearly completely submerged by floodwaters in the wake of Hurricane Matthew in October 2016.
ReBuild North Carolina has awarded more than $9,400 to two applicants in Wayne County whose homes were damaged in Hurricane Matthew.
The grants are through North Carolina's Community Development Block Grant-Disaster Recovery, CDBG-DR, funding.
"We recently received final approval from HUD for environmental reviews in Cumberland, Edgecombe, Robeson, and Wayne counties," said Mike Sprayberry, director of N.C. Emergency Management. "These approvals will allow us to move forward quickly with getting applicants awards through the CDBG-DR homeowner programs.
"In preparation for the environmental reviews completing, we have done as much work ahead of time as possible to expedite award determinations, including completing more than 100 home inspections in Wayne County. We will see many more awards offered to Matthew-impacted residents in Wayne County soon."
CDBG-DR funds can help storm-impacted homeowners and landlords repair or rebuild properties damaged by Hurricane Matthew.
Funding from the program can also be used to reimburse homeowners who undertook and completed repairs to their home after Matthew.
Overall, ReBuild North Carolina during the past week awarded more than $286,000 to 22 applicants for 32 projects in four counties.
By federal law, the identities of the recipients are not a matter of public record.
The awards include 20 for rehabilitations -- 16 in Robeson, two in Edgecombe, and one each in Cumberland and Wayne counties.
Another 12 reimbursements have been approved -- eight in Robeson, two in Edgecombe, and one each in Cumberland and Wayne counties.
The total dollar figures for these project awards are more than $224,000 in Robeson; more than $8,900 in Cumberland; more than $42,000 in Edgecombe; and more than $9,400 in Wayne.
Each family can be approved for more than one project.
For example, a family that completed their own repairs to a flood damaged house can be eligible for a reimbursement award for the work they did and a rehabilitation award to complete the repairs.
"Recovery is picking up steam with more repairs getting underway and more families getting money back for home repairs," Sprayberry, said.
"We know help can never come fast enough to those in need, and we are pushing to get hammers swinging on more recovery projects across eastern North Carolina."
The funding is in addition to more than $743 million already on the ground for small business recovery, public infrastructure repair, and direct payments to homeowners, including more than $98 million in FEMA individual assistance, according to Sprayberry's office.
CDBG-DR spending represents 15 percent of recovery funds available from various sources.
Wayne County has been awarded $16.94 million over the next two years and could be eligible for up to a total of $25.4 million over the next three years.
Since the funding is through the U.S. Department of Housing and Urban Development, at least 70 percent of the money will have to be spent on housing for low-to-moderate-income families.
The state announced on Aug. 27 that area-wide environmental reviews for Wayne, Cumberland, Edgecombe and Robeson counties were approved, including funding for various projects.
In preparation for the approval of environmental reviews, ReBuild North Carolina completed 483 home damage inspections and began or completed 574 site specific environmental reviews.
Damage inspections verify the level of damage at the home and help determine the scope of the individual award.
Once homeowners formally accept their grant awards in closing meetings, home repairs and reimbursements can follow.
Homeowners who have already completed repairs and are seeking reimbursements will receive their reimbursement check at closing.
The closing means that anyone who receives assistance under the program for housing has to agree to a five-year recapture period. If the property is sold within the five-year period, a pro-rated portion of the grant will need to be returned.
Anyone affected by Hurricane Matthew is urged to visit the ReBuild NC website at www.rebuild.nc.gov to learn more about program options or call 211 to make an appointment to visit one of the eight ReBuild NC Application Centers to determine eligibility.
The ReBuild center in Wayne County is located in the former Farm Services Agency office, 209 W. Spruce St., and is open from 9 a.m. to 5 p.m., Monday through Friday.
To date, 262 applications have been received at the Wayne County center.
Centers also are open in Bertie, Bladen, Columbus, Cumberland, Edgecombe, Lenoir and Robeson counties.