Sept. 11 memorial stair climb honors fallen first responders
By Melody Brown-Peyton
Published in News on September 12, 2018 5:50 AM
Full Size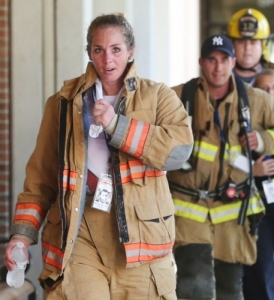 News-Argus/CASEY MOZINGO
Jacquelyn Hudson, paramedic student and Wayne County EMS, grabs hold of the cold rag she was given during the 9/11 Memorial Stair Climb at Wayne Community College Tuesday.
Full Size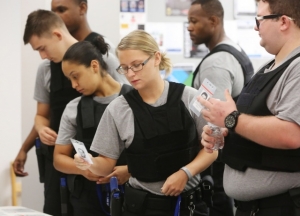 News-Argus/CASEY MOZINGO
Basic Law Enforcement Cadet Christine Creech, center, selects the badge representing Thomas Schoales, a firefighter who lost his life during the 9/11 attacks, for her inspiration for Tuesday's annual memorial stair climb.
Students at Wayne Community College who are a part of the college's public safety division took part in the annual 9/11 tribute stair climb.
The ceremony pays tribute to firefighters, rescue personnel, law enforcement and the military and remembers the first responders who lost their lives during the Sept. 11, 2001, terrorist attacks on American soil.
Students climbed the flight of stairs at the Spruce and Magnolia buildings on the WCC campus.
They went about 50 times, which represents the number of flights of stairs first responders climbed the day the nation came under attack, said WCC paramedic instructor Dave Cuddeback.
Seventeen years ago on Sept. 11, first responders Ronald Bucca and Orio Palmer ascended 78 flights of stairs inside the World Trade Center before their deaths.
Cuddeback said the design of the stairwells at Wayne Community College is similar to the stairs that were inside the trade center.
Cuddeback started the climb six years ago to show students what first responders endured on 9/11.
Dereck Ballard, a first-year student in the basic law enforcement training class who was only 8 years old on 9/11, said that he was inspired to enlist into the Marine Corps following the attacks.
"This day means so much to me," Ballard said. "It is the day the world stood still. It is a day that Americans put their differences aside and came together. Out of tragedy, we became whole again."
He walked in memory of Palmer, a firefighter with Battalion 7 in New York City.
Just before 9 a.m., students gathered in the Pine building in Classroom 121 for a time of reflection. A table in the classroom was filled with 304 name badges of first responders who lost their lives in the attack.
Students went and picked up a badge and walked in memory of one of the first responders. They put on gear just like firefighters did 17 years ago on 9/11.
Before the stair climb took place, a prayer was given by David Evens, a student in the Basic Law Enforcement class. His prayer was: "Dear God, help us to complete the mission that was started. Amen."
Tiffany Parker, who hopes to one day become a firefighter, said she cannot imagine what firefighters went through after the attacks.
"By taking part in the stair climb, I hope to get a glimpse of what they endured," Parker said.
During the climb, bottles of cold water and towels were handed out.
EMT instructor Donna Santifort said she hopes students will take from the experience a bond of brotherhood and sisterhood.
"When we talk about public safety," Santifort said, "we are not talking about one division. It takes all first responders working together to ensure the community we serve stays safe. I want them to see that we work together."
Other Local News