Goldsboro teacher travels to Amsterdam
By Phyllis Moore
Published in News on September 10, 2018 5:50 AM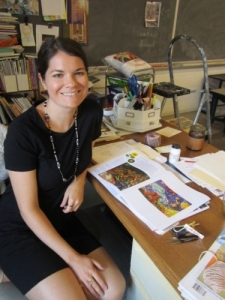 Submitted photo
Lauren Jennings of Goldsboro, an art teacher at the Arendell Parrott Academy, is pictured with a book of Vincent van Gogh's paintings from her summer art tour of Amsterdam.
Lauren Jennings of Goldsboro, a K-8 art teacher at Arendell Parrott Academy in Kinston, received a grant for summer study and traveled to Amsterdam.
The school-funded independent study of painting techniques will be beneficial in her classroom, she said.
"I was looking for ways to make painting exciting, not daunting, for my students," she said.
Her itinerary included two days at the Rijksmuseum studying the Dutch Golden Age painters, including Rembrandt Harmenszoon van Rijn and Johannes Vermeer, and a visit to the famous Van Gogh Museum.
At Rembrandt's house, which is now a museum, she viewed an authentic 17th century artist's workshop and a demonstration of making tempera paint. She also visited a studio for etchings.
"At every place I visited, my mind was constantly designing lesson plans for my students," she said. "I'm challenged to be a more creative teacher by becoming a learner myself."
Jennings is also a graduate of the Arendell Parrott Academy, as well as the Parsons School of Design.
She was one of four Arendell Parrott Academy teachers whose 2018 summer studies were funded by a Hobgood Grant, an endowment fund which promotes faculty excellence through educational opportunities.