Flooding likely in several city locations
By Joey Pitchford
Published in News on September 12, 2018 5:50 AM
Full Size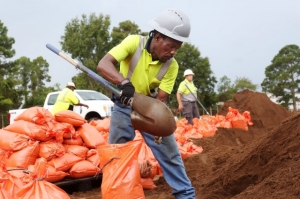 News-Argus/CASEY MOZINGO
Kelvin Cox fills sandbags at the Goldsboro Water Plant Tuesday afternoon. Public works crews worked to build berms around critical infrastructure, transformers and generators, as well as entrances to the building where floodwaters could cause damage to controls.
Full Size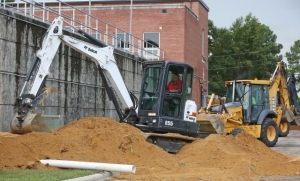 News-Argus/CASEY MOZINGO
Goldsboro public works employees build berms around critical infrastructure at the city's water treatment plant Tuesday in preparation for possible flooding.
Hurricane Florence is expected to make landfall along the coast Thursday and could batter the Wayne County area with more than a foot of rain that could result in widespread flooding.
Rick Fletcher, Goldsboro's public works director, said that the flooding will likely take one of two forms: either flash flooding -- rapid flooding caused by heavy rainfall in low-lying areas -- or "river creep" caused by the overflowing of the Neuse River.
"Flash flooding is localized," Fletcher said. "It's unpredictable. It's really based on topography, anywhere you have lower elevation, and on the amount of rain that we get."
With enough rain in a short period of time, any spot of ground which is lower than the surrounding area could fill with water faster than it is able to drain away, leading to flash flooding.
Sustained rainfall can also saturate the ground to the point where it can no longer absorb more water, which can cause flooding in unexpected places. This often happens during extended stretches of seasonal rainfall or when rain falls on frozen ground, according to the United States Geological Survey. The flooding could also occur if Hurricane Florence stalls out over North Carolina for several days.
Despite some uncertainty in the hurricane's intensity and its local effect in the Wayne County area, Fletcher said there are multiple areas in Goldsboro that are prone to flooding.
"The intersection of Wayne Memorial (Drive) and Stoney Creek (Parkway), we actually had a man lose his life there during Matthew," Fletcher said. "He just got washed away after he tried to drive through the water."
The man was later identified as 54-year-old Lemuel Frank Kornegay of Dudley.
Other problem areas include:
Royall Avenue between Spence Avenue and the Wayne County Public Schools central office at 2001 E. Royall Ave.
Ash Street at Stoney Creek Park.
George Street at U.S. 117.
South John Street near Arrington Bridge Road.
"George Street, in particular, was bad," Fletcher said. "It was backed up to Elm Street from (U.S.) 117. You could get to the pawn shop at Elm and George Street but past that, there was water."
Individual subdivisions, including the Mimosa Park neighborhood, across the city may also experience flooding problems. The risk of flooding, however, is not restricted to specific areas, as was witnessed when neighborhoods in various sections of the city were inundated with floodwaters following Hurricane Matthew in 2016.
Fletcher said the most important thing to remember is that driving through standing water is never a good idea because there is no way to know from the surface how deep the water will be. Heavy rains can also lead to washed out roads where vehicles can be sucked into floodwaters or damaged if they plummet into a hole left behind after road surfaces are broken apart.
Public works crews try to make it clear when roads are unsafe, but warnings often go unheeded, Fletcher said.
"If we don't completely barricade the road, if there's enough space for a car to get through, people will just drive around it," he said. "We can't stress this enough, if there's any barricade, even just a cone, it's there for a reason."
Luther Thompson, road maintenance supervisor with the N.C. Department of Transportation, said that driving into running water can present dangers aside from being carried away by the water itself.
"Sometimes we have the barricades up because the road has been washed out or because it's been undermined underneath the pavement and it's just asphalt sitting on top," he said. "Pay attention to the barricades."
According to the National Weather Service, it takes just 6 inches of moving water to knock over an adult and a foot of water to carry away a small car. Two feet of rushing water is capable of sweeping away most vehicles.
Other Local News