Hurricane Matthew: One year later ---- More work to be done
By Steve Herring
Published in News on October 9, 2017 5:50 AM
Full Size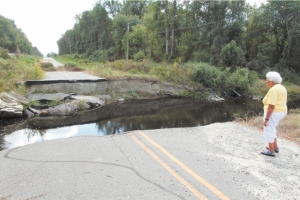 News-Argus/STEVE HERRING
Helen Greenfield looks at the washout at Old Mount Olive Highway that has yet to be repaired a year after Hurricane Matthew devastated Wayne County.
Full Size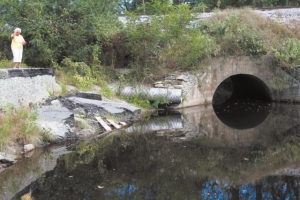 News-Argus/STEVE HERRING
Greenfield looks into the washout, a place she said a large house and deck would fit inside.
DUDLEY -- Helen Greenfield walks gingerly toward the chasm that once was a section of the Old Mount Olive Highway near her home.
She stops a safe distance from the jagged edge and stretches to look over into the sluggish brown water more than 12 feet below.
"You could put a large house and a deck in that," she said. "A couple of cars have been in it not knowing."
That section of road just south of Parker Road was one of 339 documented sites of damage left in the wake of Hurricane Matthew's historic rainfall and subsequent flooding.
It has been a year since the stormwaters took that section of road just south Walter Fulcher Road.
It could be nearly another year before it is repaired, meaning that Greenfield and the others who use this busy highway between Goldsboro and Mount Olive will have to continue to take a detour.
"We did have some roads with multiple sites, so I would estimate that over 150 roads in the county were affected by the storm," said Jiles Harrell, state Department of Transportation district 3 engineer for Division 4.
The Old Mount Olive Highway is the only remaining closure that was not temporarily opened, he said,
"We recently accepted bids on this project and will be awarding a contract shortly," Harrell said. "This project is within railroad right of way and therefore took a large amount coordination for an agreement to be executed with the railroad to move forward."
The completion date for the opening of the road is August of 2018, he said.
"We still have some work under contract as well in areas we were able to temporarily fix and open the road, but had to wait on material availability to move forward with culvert replacement for a permanent repair," Harrell said.
The state has temporarily patched what was another, smaller washout in the northbound lane nearer Greenfield's home.
"I don't drive on it and a lot other drivers don't either because it is gradually going in," she said. "Those big trucks come along and they have learned they'd better stay on the other side, too.
"If we get another big flood or whatever, it will go again surely because on one side it feels soft to your car. I don't want to be on it."
Until the road washed away, Greenfield could take it straight into Mount Olive.
Now anyone headed south has to detour down Parker Road and take three more turns before making it back to the Old Mount Olive Highway.
It is an inconvenience, she said.
It is a big hassle for the big rigs that travel the road.
"This should be named industrial road," she joked. "We get huge trucks that come along here, and I guess they don't realize that the whole road is out.
"But now they have learned because there is a barrier when you get to Parker Road."
The detour also poises a "big hassle" for farmer Jeff Jackson, who tends her farm, Greenfield said.
Greenfield is resigned to having to zigzag her way to and from Mount Olive.
But she said she and others will be glad to see the repairs made.
"We have school buses that are supposed to go all the way, but they have to make this turn up here at Parker Road, too," she said. "It is just an imposition for a lot of people."
Greenfield said she would never have thought it would take so long for the road to be repaired.
She questions whether the money being spent on building an interchange at U.S. 117 South and O'Berry Road would be better used repairing the Old Mount Olive Highway.
Greenfield is also aware of the county's plans to clean out streams in an attempt to mitigate future flooding.
She said the waterways near her home are a "mess," but are not on the list to be cleaned.