Volunteers give Gov. Charles B. Aycock Birthplace a good going over
By Becky Barclay
Published in News on June 28, 2017 8:27 AM
Full Size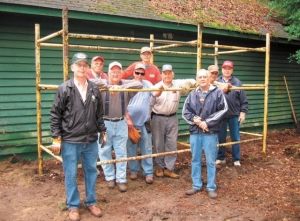 Submitted photo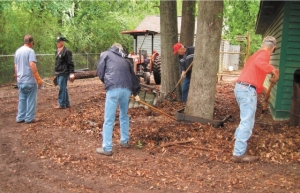 A group of men, including some members of the Sons of Confederate Veterans, clean around the maintenance area of Gov. Charles B. Aycock Birthplace.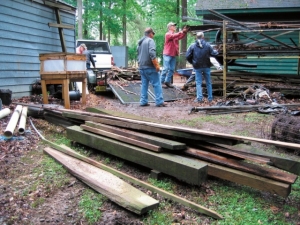 Submitted photo
Volunteers remove old wood and scrap metal from around the maintenance area at Aycock Birthplace.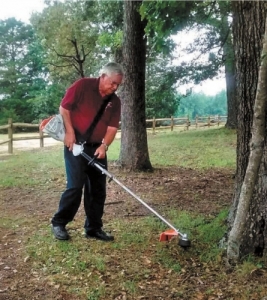 Submitted photo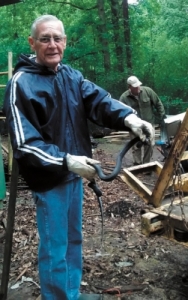 Submitted photo
Volunteer Clark Howell holds a snake that volunteers cleaning parts of Aycock Birthplace found and relocated to another area at the historic site.
A group of men, mostly members of the local Sons of Confederate Veterans, volunteered a week of their time recently to clean parts of Gov. Charles B. Aycock Birthplace in Fremont.
"We were working on the paths," said John Pippin Jr., who is also on the Aycock Birthplace Advisory Committee and president of Fremont Historical Society.
"Some of them had gotten in bad shape from the last hurricane. We had to haul in some dirt, which was donated by Fremont Rotary Club and hauled to the birthplace for free. Then K.C. Gurley scraped it with his tractor. He donated his time and tractor."
The men fixed about 250 feet of one trail and about a quarter of a mile of another.
They also worked on the maintenance and storage areas.
"It had been a while since it had actually been cleaned," Pippin said. "We went in and removed a lot of old dead wood and things that had just piled up in there. And we got rid of some old scrap metal."
And they even moved a snake to another location at the birthplace.
"Water had run down the hill and had washed around the maintenance area and it needed some work done. It took the whole crowd of us about five hours to clean up around the maintenance shop. We also removed some rotten wood. And there were vines growing up that we took down."
One volunteer, Earl Speight, pressure washed the historic site's picnic tables, volunteering his time and pressure washing business.
"Those picnic tables were really stained over the years from where leaves had fallen and water fell on top of the leaves," Pippin said. "When he got through with them, they were white again."
Some of the volunteers weeded and cleaned the cemetery at the birthplace, too.
The men spent sometimes seven and eight hours a day cleaning the week they were at Aycock Birthplace.
"County commissioners Wayne Aycock and Ray Mayo event came out and helped us clean," Pippin said.
The youngest volunteer was 59 and the oldest was 79.
"It was unreal what they did," Gurley said.
Pippin said the group of men also cleaned parts of Aycock Birthplace last year.
"We had gone up in the area where the entrance part of the building is and cleaned up some old shrubbery that had completely covered over the cement area," he said. "We dug all that out and reseeded it, all volunteer work."
Aycock site manager Leigh Strickland said the birthplace relies heavily on volunteers to help do things there.
"What these men did definitely is a big help," she said. "Bringing in dirt for the paths reduced potholes and trip hazards for our visitors."
The men have cleaned parts of Aycock Birthplace for the past couple of years because they don't want to lose it.
"It's a place in North Carolina where children can go and see what an actual farmhouse looked like and how farm living was in the late 1800s," Pippin said. "They can learn from history there.
"And we also want Gov. Aycock to be remembered for what he did for education.
"All of us had remembered when the birthplace was put up back in the 1960s. And we're trying to keep it. It's part of history that once it's lost, it will be gone forever and we won't have it anymore."
Anyone interested in volunteering at the birthplace in any capacity should call 919-242-5581.