WCC shortens pharmacy tech program
By Phyllis Moore
Published in News on June 28, 2017 7:16 AM
Full Size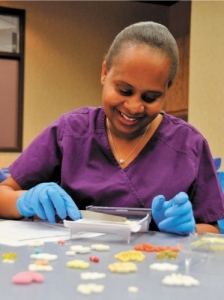 Submitted photo
Wayne Community College Pharmacy Technology student Hannah Kariuki counts discarded pills during Operation Medicine Drop, a project participated in annually by students in the program.
Full Size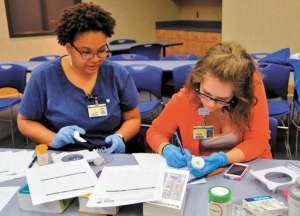 Submitted photo
Wayne Community College Pharmacy Technology students Brittany Bell and Kylimry Scott volunteer to count and identify drugs during the Operation Medicine Drop session held on the college's campus recently.
The pharmacy technology program at Wayne Community College has been shortened, with the possibility of earning a diploma in just nine months, officials said.
The program, which prepares students to assist pharmacists and to take the National Pharmacy Technician certification exam, has been reduced from three semesters to two.
"This will give them a chance to get in and out in less than a year," said pharmacy technology program director Laura Skinner. "They will be prepared for the exam in nine months and ready to work in a pharmacy setting."
Financially, it's a smarter way to go, she added, as well as allowing graduates to enter the workforce sooner.
Many of the students are hired by the businesses and organizations that provide their clinical experiences, Ms. Skinner said, sometimes before they graduate.
The program, which was instituted at the college six years ago, started with just three students. It has produced 47 graduates so far and another eight will finish at the end of this summer.
Of the graduates, Ms. Skinner said she knows of 36 who have gone on to health care careers or for further education in a medical field, including one that is currently in pharmacy school.
"If I can get them nationally certified, they've got a job," she said, adding that some have found that their employers will pay for them to advance their education.
Pharmacies are starting to require that technicians have formal training, she said, which gives graduates of her program an advantage over those who simply take the certification exam.
In addition to its reducing the regimen to get to graduation, the program has more changes on the horizon.
The director says she is preparing to apply for national accreditation for the program and to implement an associate degree curriculum.
Ms. Skinner serves as the program director and sole instructor, which affords her the opportunity to have more one-on-one time with each student.
The college is taking applications now for the Pharmacy Technology cohort that begins this fall. Admission to the two-semester diploma program is limited to 15 students.
For more information, call 919-739-6950, e-mail lsskinner@waynecc.edu or visit
www.waynecc.edu/pharmacy-technology/.