A step in the right direction
By Joey Pitchford
Published in News on June 29, 2017 7:00 AM
Full Size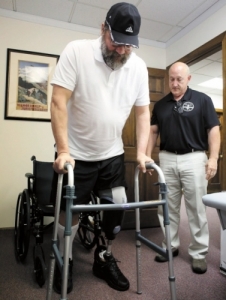 News-Argus/CASEY MOZINGO
Chris Williams walks for the first time on his new leg with the guidance of William Stauffer Tuesday. Until Williams has built up strength in his leg he will use a walker to help.
Full Size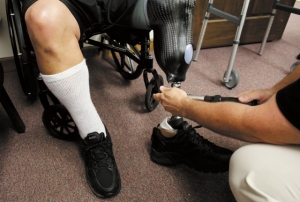 News-Argus/CASEY MOZINGO
William Stauffer makes a few adjustment on Chris Williams' new leg.
Chris Williams had not taken a step in over a year.
A retired Marine, Williams, 55, had his left leg amputated below the knee due to diabetes in 2016.
Since then, he had used a wheelchair to move around. His girlfriend, Cynthia Pride, cared for him and did much of the household work.
On Tuesday, Williams sat in a room at the Goldsboro office of North Carolina Orthotics and Prosthetics, Inc., waiting to receive a new prosthetic leg.
Williams, who lives in Mar-Mac, said that the time since losing his leg had gone by quickly.
"It's been a while, but when I learned about this I was so excited," he said. "It flew by."
William Stauffer, prosthetist and orthotist at NCOPI, placed a special cushioning sleeve over the remainder of Williams' leg.
He clicked the new limb into place over the sleeve, and tightened it with a few practiced twists of a wrench.
"I jokingly say I'm a glorified mechanic because we're turning wrenches and doing computer simulations when we have to," he said
He stepped back and looked at Williams.
"Whenever you're ready."
Williams wasted no time getting to his feet. He leaned on a walker as his legs bore his weight once again, testing out the new limb.
Though it was clearly difficult, Williams turned and walked down the hallway a few moments later.
Stauffer coached him along the way, reminding him to take his time and keep the carbon fiber foot underneath him as he walked.
Williams stood a bit taller with each passing moment. He made his way back to the room even quicker than he had left it and sat back down in his chair.
Convincing the body to walk again after so long in a wheelchair is not an easy task. Williams' steps down the hallway left his heart racing, and he took a moment to catch his breath.
"I'm just going to take it easy to start with," he said. "It's nothing to do with my leg though. My leg feels good."
Stauffer said that the first steps after receiving a new prosthesis are like riding a bike for the first time - exciting, unfamiliar and a bit scary.
Also like riding a bike, patients get the hang of it quickly.
"Once he gets his balance back, this foot should allow him to do just about anything he wants to," Stauffer said.
Getting to this point had been a long road for Williams. Before losing his leg, he battled through two strokes, one of which left him unable to move his left side for months. He also has emphysema, which makes exerting himself even more difficult.
Williams powered through it. When he first learned he would need to have an amputation, he said the choice was clear.
"I had a choice to make. Keep the leg and kick the bucket or lose the leg," he said. "I took the right choice."
That isn't to say Williams was not excited. He was as close to literally jumping out of his chair as he had been in quite some time.
"This feels good. When you're used to doing for yourself, and there's an interruption in that, it's night and day," he said with a smile. "I haven't cut up in here yet, but as soon as we get back to the truck I'm planning on cutting up."
Before losing his leg, Williams was used to being active. His amputation put him and Pride in the uncomfortable position of having her do most of the work.
Now, he hopes to return to helping out around the house.
"After I got used to the wheelchair, I was able to do more but not as much as before," he said. "Now I'm looking forward to doing what I used to."
Pride felt the same way.
"Maybe now he can feed the dogs in the morning, and I can sleep," she said with a laugh.
Through it all, Williams never lost his sense of humor. He called himself "hard-headed," for getting through all of his obstacles, and cracked jokes as Stauffer fitted the new foot.
At one point, Stauffer explained that the new limb weighs about one-third of what Williams lost in surgery.
Williams responded with a smile.
"So you're saying I'm still losing weight?"
Other Local News