Optimist Club of Goldsboro hosts summer fun day for kids
By Steve Herring
Published in News on June 10, 2017 3:42 PM
Full Size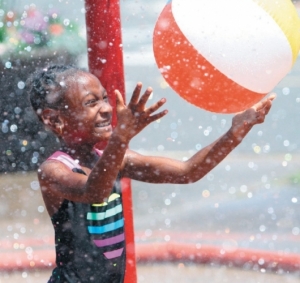 News-Argus/STEVE HERRING
Asia Burton, 7, plays with a beach ball under the sprinkler Saturday during the Optimist Club of Goldsboro's fifth annual Kids Fun Day at Cornerstone Commons.
Brenda Newkirk sat in the shade watching her granddaughters Asia Burton, 7, and Zakiyah Burton, 10, frolic under the cooling spray of the large sprinkler Saturday morning.
Mrs. Newkirk admitted she had thought about joining them -- she has in the past.
They were among the large crowd of people enjoying the Optimist Club of Goldsboro's fifth annual Kids Fun Day at Cornerstone Commons
Mrs. Newkirk said they have not missed one yet.
"They enjoy coming out, getting in the water and playing with other kids, and all of the games and activities" she said.
"It is nice that the Optimist Club is doing this and letting it be free for the community. The children really enjoy it.
"We look forward to it every year. We come every summer. I have done it (gotten under the sprinkler), but not this time. But I may get in there before we leave. We really appreciate what the Optimist Club is doing."
Along with the sprinkler children could play corn hole, bounce in a bounce house, shoot baskets and blow bubbles.
There were educational activities as well and city police and firefighters were on hand as well.
Vendors passed out free water, soft drinks, doughnuts, hot dogs, popcorn and ice cream during the free event that lasted from 10 a.m. to 2 p.m.
The event is held each year on the second Saturday in June.
It was initially started as an ice cream social by the Downtown Goldsboro Development Corp., said longtime Optimist Club member Bill Edgerton.
"We celebrate kids getting out of school," club member Betty Duncan.
Vendors at the event deal with children because the club's motto is "Friend of Youths," Edgerton said.
"But this is just a fun day that we have celebrating the end of school," he said. "It seems like the teachers we have out here are as happy or happier than the kids that are out here."