Spring Creek graduates ready for next step
By Steve Herring
Published in News on June 10, 2017 6:31 PM
Full Size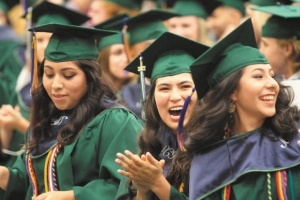 News-Argus/STEVE HERRING
Spring Creek High School senior Paola Vega, center, laughs and claps as she and her classmates are declared graduates during Saturday morning's graduation ceremony. At left is Karina Velasquez-Galindo and at right is Samantha Carreno.
MOUNT OLIVE -- When it came to finding chewing gum at Spring Creek High School, Jamal Davis was the go-to guy.
Saturday morning as the seniors waited to graduated, Davis was again the center of attention passing out sticks of gum even thought no one was sure if they would be able to chew in line.
"I just brought it because I knew people would want it or need it," he said. "I've given out about five pieces. Spearmint. I just decided bring it on my own. I've always got a pack gum. 'Hey, Jamal let me get a piece of gum.'"
Davis said he was excited at the thought of graduating.
He was one of the 156 candidates for graduation during the ceremony held at 10 a.m. at Kornegay Arena on the campus of the University of Mount Olive.
Davis said he would work over the summer and go to college. He is still trying to decide between St. Andrews and Montreat. He has not made up his mind on a major, but hopes to run track and play baseball.
Pernatthia Marshall of Mount Olive was standing in the hallway waiting for the ceremony to start.
"I am excited, nervous. I don't want to mess up," she said. "I can't believe I am about to graduate already -- 12 years have passed by so fast."
Miss Marshall began losing her eyesight in middle school and is now legally blind.
"It was challenging," she said. "In middle school it was kind of not that noticeable. But when I got to high school it got worse and that's when it became difficult."
Miss Marshall said she has received a lot of support from family and classmates.
She plans to attend Wayne Community College in the fall.
Valedictorian Selena Reyes and salutatorian is Cassandra Gonzalez became emotional as they delivered their comments.
Miss Reyes plans to go to Wayne Community College to study nursing.
She told her classmates that she hopes to see them succeed in the paths that have chosen for themselves.
"We are as indestructible as we believe ourselves to be," she said.
And she said she believes they are all capable of becoming something greater.
Miss Gonzalez will be studying biology at UNC-Chapel Hill.
Ivet Carreno, senior class president, told the class that regardless of where they go in life, college, military or work, that graduation is really just the beginning.
Miss Reyes gave the welcome and the invocation was given by Samantha Carreno, class vice-president.
Senior Class treasurer Karina Velasquez-Galindo, said the senior class present was a new school sign.
Paola Vega, senior class secretary, led the tassel-turning ceremony saying her instructions would be the last ones that the class would have to follow as high school students.
She asked them to stand and move their tassels from the right to the left as the audience broke into applause, shouts and whistles.