Mount Olive man to appear Monday, on 'Today'
By Phyllis Moore
Published in News on June 10, 2017 3:33 PM
Full Size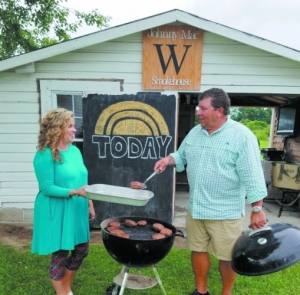 Submitted photo
Freddie Ellis of Mount Olive, right, participates in one of his favorite pasttimes, grilling at the family's smokehouse, along with daughter, Kirstin Cornish. The blackboard backdrop with "Today" on it is a nod to the fact that Ellis was recently notified by the Today Show that he had won a Father's Day contest, "Grilling with Al (Roker)" and will be featured on the morning news show on Monday. The announcement came as a surprise, as he was unaware that his daughter nominated him for the honor, which includes him cooking with Chef Tim Love from Fort Worth, Texas.
MOUNT OLIVE -- When Kirstin Cornish learned about a Father's Day contest on the Today Show that featured a grilling component, it had her dad's name all over it.
"I have a great dad and he deserves to win," she said.
Maybe she just has a soft spot in her heart for Freddie Ellis, but he is the true definition of a family man, she wrote in her entry.
"He's born and raised in a small town best known as the Pickle Capital of the world, Mount Olive, North Carolina," she wrote.
Introduced into the produce business by his father almost 30 years ago, Ellis is a salesman for Sun-Up Produce.
But like many families, theirs has had some tragedy, Mrs. Cornish said.
"In 2015 we lost my brother, his only son, due to an accidental overdose," she shared in her contest entry, adding that the following year Ellis' mother passed away.
To cope with the sudden losses he turned to grilling -- to help alleviate the grief and to prioritize family time.
"He grills at least three times a week and delivers it to all of the elders in our family or if someone is in need due to a recent hospital stay, accident, etc. and will even invite locals out to what we call 'The Smokehouse' to come and enjoy his delicious food," she wrote.
Ellis loves to entertain and doesn't know a stranger, she said. The Smokehouse has been in the family for years. It was her great-grandfather's from the early 1900s at the family's original home place and Ellis recently restored it.
That's where the "grilling magic" happens, she said.
"I do cook a lot for the fun of it," Ellis admitted. "I grill outside. I'm not an indoor cook.
"I have a place in Rones Chapel, the home place, and we have a cookhouse there. We cook at least once or twice a week -- 'We may doze but we never close,' for friends and family," he said with a laugh.
In her e-mail to the show, she explained that her father's passion for grilling extended to included taking a class from Carl Lewis, the 2014 N.C. champion of BBQ Pitmasters.
"I think my dad deserves a spot on this show to give him an honorable shout out and let the world know how much he means to me, my family and our community," she wrote.
After she sent in the nomination, though, she forgot all about it.
"I actually didn't even tell him that I submitted the e-mail because we had a one-in-a-million chance," she said. "I just let it slip my mind."
So when the Today Show contacted Ellis, he thought it was a joke.
"It's not uncommon for me to get a call from New York because I sell watermelons in New York," he said.
But then the caller mentioned his daughter by name and he realized it was legitimate.
Yes, that "one-in-a-million" shot became a reality.
Ellis flew to New York this weekend and will be on the live news program Monday morning. During his segment, he'll be grilling with Chef Tim Love, based in Fort Worth.
"It's pretty cool," he said earlier this week. "I do have a permit to cook in Rockefeller Center in hand."
I told him he wouldn't be there without me so for sure I'm going," Mrs. Cornish said.
Ellis said he is not sure what to expect during his TV debut but learned mid-week that he will be given a surf-n-turf entree to create.
"I'm game," he said. "I'm not worried about the steak. I can cook steak with the best of them."
He's not a fish eater, though, he said, so doesn't typically cook it as often.
He said he was told his segment will air on NBC somewhere around 8:30-9 a.m.