Fun in the sun
By Joey Pitchford
Published in News on June 13, 2017 7:10 AM
Full Size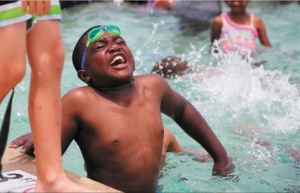 News-Argus/CASEY MOZINGO
Daniel George, 9, reacts to the cool temperature of the water in Mina Weil Pool on Monday during the Goldsboro Parks and Recreation's Fun Bunch Day Camp.
Full Size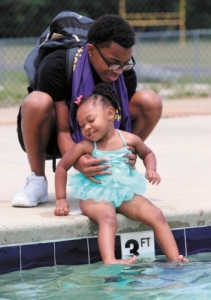 News-Argus/CASEY MOZINGO
Malik Jarman, 15, holds his sister Morgan, 3, at the edge of Mina Weil Pool so she can splash her feet in the water.
Going to the pool is a quintessential summer pastime, and the Herman Park Fun Bunch Camp is not missing out.
The 38-kid camp took a trip to Mina Weil Pool on Monday, kicking off the Goldsboro Parks and Recreation department's series of summer camps. The group of kids, ages 6 to 13, gathered around the pool together around 1:30 p.m., ready to hop in and play.
Skylar Kelly, assistant center leader at Herman Park, said the pool trip was the first in a season-long set of weekly events. In addition to the pool, the Fun Bunch program does field trips, outdoor activities and all kinds of sports, under the guidance of trained camp counselors.
Kelly said the program is a positive influence on the kids who attend it.
"It gives them something to do, but more than that it gives them something great to do," he said. "They're here instead of being out on their own being reckless. They're under supervision, so they have role models here. We have great programs, and we have great staff as well."
One of the kids having fun in the pool was 8-year-old Kennedy Howell. She said she had been coming to summer camps since she was 4 years old, and she loved the variety of activities she got to participate in. She also enjoyed the pool itself.
"I love it, it's amazing," she said. "I like how there's plenty of space for everyone to swim."
Ten of the kids at the pool Monday came courtesy of the Maximizing Our Real Experiences Youth Movement, a local youth outreach group which provides mentorship and tutoring to kids.
Nicky Jarman, with MORE, said that the group coordinated with Parks and Recreation to bring some of their kids to the camp.
"Because they have been so good to us, we wanted to work with them as well," she said. "We usually stick with small groups, never more than 20 kids at a time."
Kelly said that while the Fun Bunch Camp is more of a broad experience for younger kids, Goldsboro Parks and Recreation offers several more focused camps for older kids. Camps focusing on single sports including basketball and soccer are available.
More swimming opportunities are available later this month. On June 22, campers at both Herman Park and the W.A. Foster Center can come to Mina Weil from 9 to 10 a.m. for free swimming lessons, followed by free lessons for the public from 10 to 11 a.m.
From 11 a.m. to noon, anyone who took part in the previous swim lessons is free to swim in the pool.
For Kelly, the summer camp programs are part of the Parks and Recreation mission.
"We're just making play happen, that's what we do," he said.