Operation Clean Slate: Taking back the city's street signs and buildings
By Ethan Smith
Published in News on June 2, 2017 4:23 PM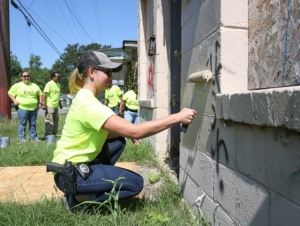 News-Argus/CASEY MOZINGO
Chastity Hinnant paints over grafitti on the front of a vacant building at 517 Wayne Ave. Friday morning during Operation Clean Slate.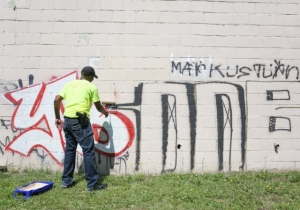 News-Argus/CASEY MOZINGO
Charles Raiford uses a paint roller to cover part of the graffiti that was painted on the side of a vacant building at 517 Wayne Ave. Friday morning as part of Operation Clean Slate. The building was a former barber shop and had graffiti covering three of its four sides.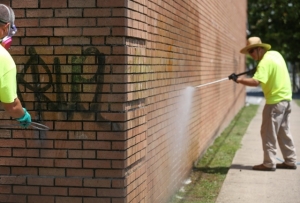 News-Argus/CASEY MOZINGO
Graffiti painted on brick buildings that could not be painted over had to be treated, scrubbed and power washed to be removed. The Goldsboro Police Department hopes that by tracking and removing the graffiti as it appears will help improve the appearance of the city and help catch people who continue to tag the buildings.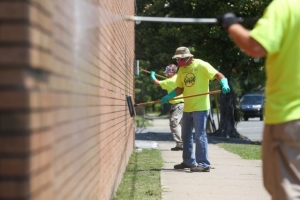 News-Argus/CASEY MOZINGO
Thomas Bailey, center, and several others from the Goldsboro Police Department treat and power was areas of a shopping center at the corner of Ash Street and Lionel Street Friday during Operation Clean Slate.
People riding around the city this weekend might notice a common sight in Goldsboro has been removed.
Officers with the Goldsboro Police Department and members of the community spent half the day Friday cleaning graffiti off of buildings, houses and street signs.
It is all part of Operation Clean Slate.
Participants hit both the north end and south end of the city to remove gang graffiti.
Officer Walt Howard, of the Goldsboro Police Department's Gang Suppression Unit, said the operation began coming to fruition almost a year ago.
Howard said as the gang unit began finding graffiti around the city, they recorded it and started coming up with ways to remove it.
After getting the property owners to sign waivers allowing volunteers to clean the graffiti off, the operation commenced Friday.
Participants divided into five teams, and tackled about 22 properties and 34 street signs.
Volunteers pressure washed graffiti off of brick buildings, used paint remover, and painted over graffiti with paint that matched the color of the houses and properties they were working on.
Howard said this will not only clean up some blight around the city, but will also keep gang graffiti from influencing young children.
"This keeps kids from seeing it and then getting curious about it and possibly developing an interest in gangs and learning about them," Howard said.
And Friday's operation isn't a one time shot.
Officers have established contacts with the property owners. So, if graffiti pops back up where it was just removed, they can be called back out to those areas and clean it off again.
Howard added that the department will be moving cameras around to monitor areas where buildings and signs are being tagged with gang graffiti.
This will allow the department to possibly catch the people tagging the city.
"It's getting to the point where a lot of businesses and residents are tired of it," Howard said. "A way we can deter it is to catch someone on camera doing it."
Other Local News