Goldsboro police attend boy's sixth birthday party
By Ethan Smith
Published in News on June 4, 2017 9:04 AM
Full Size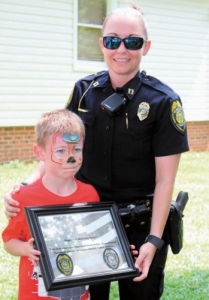 Submitted photo
Capt. LeAnn Rabun, right, poses with Riley Hughes during his sixth birthday party on Saturday, May 27.
Full Size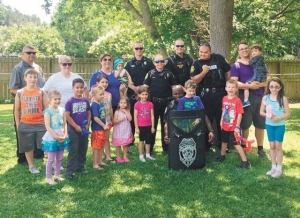 Submitted photo
It isn't uncommon for children to want to grow up to be a firefighter or police officer.
But it is rare that officers take time out of their day to surprise a child at their birthday party.
On Saturday, May 27, after several officers worked an overnight shift checkered with shootings, they surprised 6-year-old Riley Hughes at his birthday party.
"Oh my gosh, he was smiling from ear-to-ear," said Riley's mother, Penelope Hughes.
Hughes said she originally called the Police Department and asked if one officer could attend the child's birthday party.
"I told her absolutely, we'll be there, but I'm sure we can do better than that," said Capt. LeAnn Rabun, supervisor of D-Shift with the Goldsboro Police Department.
Instead of one officer coming out, more than half a dozen officers surprised Riley at his party, including officers from other shifts.
With them, they brought a police shield, the police department's Mobile Command Unit and even brought a magician to the party.
Rabun said the officers hung out for about an hour at the child's sixth birthday party, letting him inside the Mobile Command Unit and also brought along a K-9 officer with their police dog.
"He said the police were his favorite part, and hitting the buttons inside of the (mobile) command post," Hughes said.
And while officers surprised Riley with their presence at the party, he surprised them with something else -- he was taking donations for the Fallen Police Officers fund in honor of Maj. Jay Memmelaar, a GPD officer who died unexpectedly earlier this year.
Rabun said they gave Riley some donations from the Goldsboro Police Department, and Hughes said he raised about $400 for the fund.
Hughes said her son has always been fascinated by first responders and the service they provide for the community, but he developed a special interest toward police officers in the past six to eight months.
In all, it was the perfect way for Riley to ring in his sixth birthday.
"He's been telling all his friends and everybody at church," Hughes said.