Jam to recognize military members
By Rochelle Moore
Published in News on June 1, 2017 7:02 AM
Full Size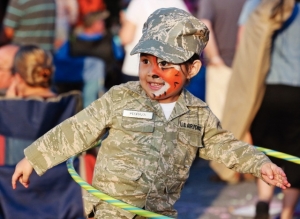 File photo
Victoria Pedraza, 4, hula hoops during Military Appreciation Night at the Center Street Jam in 2016.
The Center Street Jam series tonight will recognize members of the armed forces during its annual Military Appreciation night.
The evening includes special activities and giveaways to celebrate members of the military and their families.
"The Military Appreciation Center Street Jam is an annual event that we are very proud to host as a small token of our admiration for the men and women who serve our country, right here in Goldsboro and beyond," said Erin Fonseca, Goldsboro downtown development promotions coordinator. "We invite the community to help us celebrate these brave service members and their dedicated families."
The evening is planned to include an opening ceremony with leaders from Seymour Johnson Air Force Base and the city of Goldsboro and a color guard from the Goldsboro Police Department and Wayne County Sheriff's Office.
Shirley Proctor, the executive director of the Miss Goldsboro pageant, will sing "The Star-Spangled Banner."
The Elks Lodge will host a kids corner with a patriotic craft, and patriotic items such as stickers and beads will be given to concert attendees.
The winner of the My Military Hero Photo Contest will be announced during intermission, and the winner will receive a Downtown Bud Light Prize Pack, Fonseca said.
Also during the night, anyone with a military identification will receive their first beer purchase at a $1 discount.
Jim Quick and Coastline will perform during Center Street Jam, which will be from 6 p.m. to 9 p.m., in the John Street parking lot, at 130 N. Center St.
There is no cost to attend, and food vendors and draft beer will be available for purchase. Visitors are encouraged to bring lawn chairs, but no pets or coolers are allowed.
The summer concert series, which started May 4 and continues through Aug. 24, includes a variety of bands that will play in downtown Goldsboro every other Thursday night. The series is organized annually by the Downtown Goldsboro Development Corp.
The concerts take place during rain or shine, unless heavy rain and thunderstorms are in the forecast.
Concerts continue on June 15 with the Soul Psychedelique Orchestra, which offers a wide selection of music from 1940s big band sounds to beach music, rhythm and blues, rock, reggae, Latin and today's popular hits. At full size, the orchestra has a three-to-six horn section, a string quartet, full rhythm section and a disc jockey.
Liquid Pleasure, with music that includes hits from the Temptations, Aretha Franklin and Chuck Berry, will perform during the June 29 Center Street Jam.
Also in this year's lineup are The Embers on July 13, Digger Foot on July 27, Gary Lowder and Smokin' Hot on Aug. 10, and Hip Pocket on Aug. 24.
Other Local News