American Red Cross encourages preparation for hurricane season
By Becky Barclay
Published in News on June 1, 2017 7:02 AM
Full Size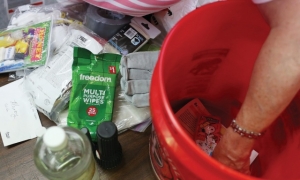 News-Argus/CASEY MOZINGO
Besides the usual water and flashlights most people pack in a survival kit, the list of suggested items from the Red Cross includes duct tape, children's activities, a shower curtain and paper money in case the power is out and you cannot use debit or credit cards.
Full Size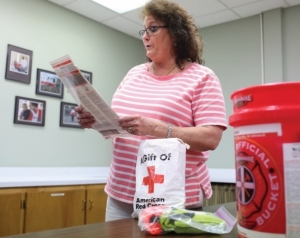 News-Argus/CASEY MOZINGO
Kathy Jones, Red Cross disaster program specialist for Lenoir, Wayne and Greene counties, reads off a list of some of the things that should packed into a sample hurricane preparedness kit.
Hurricane season is here -- and will last through the end of November. The American Red Cross recommends getting prepared now with a disaster preparedness kit.
"Everybody should have a kit," said Kathy Jones, Red Cross disaster program specialist for Lenoir, Wayne and Greene counties. "You can put whatever items you want in it. Or the Red Cross has a list of recommended items."
Food is always a necessity and it should be nonperishable. You should also include canned foods with a flip top or have a manual can opener in the kit in case the electricity goes out. And if you have children, be sure to include foods they like.
Also include any medications you are taking. If they have to be refrigerated, you can use the small freezer packs in a lunch-size cooler bag.
"Keep the freezer tubes in your freezer at all times," Ms. Jones said. "Then when something's coming, you grab it, throw it in a cooler with your medicine and that's going to get you through at least 24 hours.
"At that point, a shelter should be open and they'll be able to refrigerate your medications for you."
Ms. Jones also stressed that everybody have a little extra cash in their kit because if a hurricane knocks out the electricity, you won't be able to use your debit or charge cards.
"Also, make sure you have your important documents in case you have to evacuate and can't get back to your home," she said.
Ms. Jones suggested having some kind of all-purpose drop cloth, like a shower curtain, in your hurricane kit. And duct tape, she said, is all all-purpose tool you should also have.
If you have a pet, you might want to have a bigger hurricane kit to include your pet's items, such as food, medications, additional water and things like this.
A hand crank radio should be part of your hurricane kit, too, so you can stay updated on the storm.
"I would recommend having a kit year-round," Ms. Jones said. "If you have food in it, you would want to rotate it. Keep it in a closet or somewhere you could get to it in a hurry. Let everyone in the family know where that kit is. And keep it up to date."
Ms. Jones said the Red Cross also has a hurricane app that will let you know where shelters are. There are also tornado and flood apps.
You may want to ride the storm out in your own home. Or you may want to evacuate to a Red Cross shelter.
"If a hurricane comes through, the shelters are going to be open before the hurricane gets here," Ms. Jones said. "You will have time to get to that shelter."
The Red Cross shelters will have cots, pillows and blankets, but you may want to take your own from home. Food will also be available. However, anyone with a special diet should take food to get through the first 24 hours until the Red Cross has time to get the special foods into the shelter.
"Everybody will have an area where they can set up and make themselves as cozy as possible," Ms. Jones said. "At least you're in a safe environment. You'll have electricity and running water. And you're with your family.
"We do have a safe and well site as well, so if for some reason, you are evacuating and you have a family member in another state and they want to check where you are, you can register on that site. Then they can see what shelter you are at and see you are OK."
Wayne County has two shelters that are pet friendly for those who don't want to leave their four-legged family members at home while they are at a shelter themselves.
"It has to be in a different part of the school, not where the clients are," Ms. Jones said. "A lot of times, cages will be set up in a maintenance building. We partner with Cooperative Extension to shelter pets. Once the storm has passed, we will allow clients to visit with their pets.
"If you take your pet, you can take one of its favorite toys. I would highly recommend that. It's a wonderful idea to bring something that would comfort your pet, like a pillow, blanket or something else that has your scent on it. It will absolutely comfort them."
Why be prepared for hurricane season?
"With a hurricane if you try to go to the grocery store at the last minute, you're lucky if there's anything left on the shelves," Ms. Jones said. "You won't get items."
And not only could you go hungry, but you could be facing the storm with no water, no flashlight to see your way around your home if the electricity goes out or no way to keep your refrigerated medications from going bad -- and worse, no cash to buy items that you could already have in your hurricane kit.
The American Red Cross recommends putting these items in your kit:
* bottled water, at least a three-day supply of one gallon per person
* food, at least a three-day supply of nonperishable foods per person
* flashlight
* battery-powered or hand-crank radio
* extra batteries
* first aid kit
* medications, a seven-day supply, and medical items such as hearing aids with extra batteries, glasses, contacts, syringes, cane
* multipurpose tool
* work gloves
* sanitation and personal hygiene items
* copies of personal documents such as a medication list, pertinent medical information, proof of address, deed/lease to home, passport, birth certificate, insurance policy
* cellphone with chargers
* family and emergency contact information
* extra cash
* emergency blanket
* map of the area
* baby supplies such as bottles, formula, baby food, diapers
* pet supplies such as collar, leash, ID, food, water, bowl
* tools/supplies for securing your home
* extra set of car keys and house keys
* extra clothing, hat and sturdy shoes
* rain gear
* insect repellent and sunscreen
* camera for photos of damage
Other Local News