15-year-old charged in double homicide
By Ethan Smith
Published in News on June 1, 2017 1:04 PM
Full Size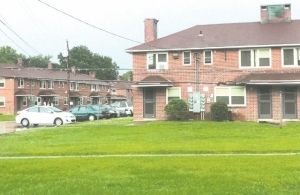 News-Argus/CASEY MOZINGO
Mitchell Wooten Apartments in Kinston where two men were shot and killed Wednesday.
KINSTON -- Police announced during a press conference today that a 15-year-old male has been charged with two counts of murder following the shooting deaths of two people in Kinston Wednesday, one of whom was a Goldsboro teenager.
Because of the juvenile's age, his identity is not being released, but he has been taken to the juvenile detention center in Greenville.
A press release Wednesday said Donald Girtley Jr. 18, of 918 Lincoln Drive, was shot and killed at the 13 building of the Mitchell Wooten Apartments earlier that day.
Another person, identified in the press release as 23-year-old Demone Nesbitt, of 13-G Mitchell Wooten Apartments, Kinston, was also killed as a result of the shooting.
The release said Nesbitt died while being taken to Vidant Medical Center in Greenville.
"We give our deepest sympathy to the family of our victims, and ask the community to keep the prayers coming," said Kinston Police Chief Alonzo Jaynes during the press conference.
Jaynes said the department passed along information to the Goldsboro Police Department after the shooting.
Jaynes said a Goldsboro police officer encountered a group of people, followed a hunch and detained the 15-year-old.
"Some will say it's just by coincidence, some will say it's just old fashioned police work, but this Goldsboro police officer encountered some gentlemen in the city of Goldsboro and followed a hunch, and after learning about our homicide Goldsboro officers responded to an address in their city where the suspect attempted to flee from officers," Jaynes said. "The juvenile was detained and our officers responded to Goldsboro, where we transported him back to Kinston."
He did not expand on what, exactly, that hunch was or provide the name of the officer who detained the juvenile.
Wayne County Public Schools spokesperson Ken Derksen confirmed by phone that Girtley was a returning senior at Goldsboro High School.
Derksen said Girtley did not graduate this year, though he was a senior, and would have returned in the fall of this year as a senior.
This shooting death marks the second Goldsboro High School student in less than a week to be killed by gunfire.
Desconte Makell Bryant, 18, was shot multiple times on the front porch of 410 Hollowell St. at about 1 a.m. Sunday.
A press release sent Monday from the Goldsboro Police Department said Bryant died from the injuries sustained in the shooting after being taken to Vidant Medical Center in Greenville from Wayne UNC Health Care.
Police are investigating Bryant's death as a homicide.
Derksen said Bryant was a rising senior at Goldsboro High School and was very active in the school's JROTC program.
Anyone with information about Bryant's killing is asked to call or text Wayne County Crime Stoppers at 919-735-2255, or submit information at tipsubmit.com.
Callers can remain anonymous, and information leading to a felony arrest will be eligible for a cash reward.
Other Local News