Medical assisting class pinned
By From staff reports
Published in News on May 30, 2017 6:57 AM
Full Size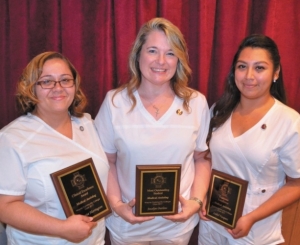 Submitted photo
Wayne Community College Medical Assisting Class of 2017 award winners are, from left, Dennise Harrington, clinical excellence; Jocelyn Outlaw, most outstanding student; and Isabel Vasquez, academic excellence.
The 13 members of the 2017 Medical Assisting class at Wayne Community College were recently presented their pins in a formal ceremony at the college.
The annual service, which includes presentation of medical assistant pins and red roses to students by the program faculty, and recitation of the Medical Assistant's Creed, denotes the end of the graduates' academic careers and beginning of their professional lives.
Dennise Harrington was presented the clinical excellence award, recognizing the graduate who earns above average clinical site evaluations and the highest number of clinical hours.
The academic excellence award went to Isabel Vasquez, for achieving the highest standards in the classroom and earning the highest overall grade point average.
Jocelyn Outlaw was named most outstanding student, based on grade point average, clinical reviews and commitment to the profession.
Other graduates in the latest class included Lakisha Campbell, Kiandria Dixon, Courtney Evans, Tonia Gooding, Tea'ra Howell, Heather Jones, Candice Perry, Jessica Pittman, Carrie Poland and Olivia Tipton.
The medical assisting program is an 18-month, limited admission program that includes administrative, clinical and lab components. It is accredited by the Commission on Accreditation of Allied Health Education Programs upon the recommendation of the Curriculum Review Board of the American Association of Medical Assistants Endowment. Graduates of the WCC program are eligible to take an examination to become Certified Medical Assistants.