Wayne County remembers the fallen during Memorial Day
By Steve Herring
Published in News on May 29, 2017 3:47 PM
Full Size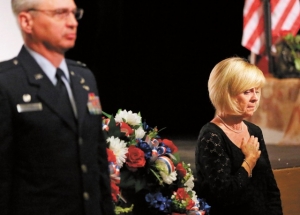 News-Argus/CASEY MOZINGO
Col. Shannon Cooper, Commander of the 4th Maintenance Group at Seymour Johnson gives his keynote speech at the annual Wayne County Veterans and Patriots Coalition Memorial Day Ceremony at Wayne Community College Monday morning.
Full Size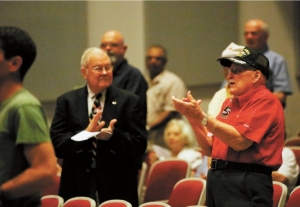 News-Argus/CASEY MOZINGO
Air Force veterans stand as they are recognized during a medley of service songs by Encore Entertainment.
Full Size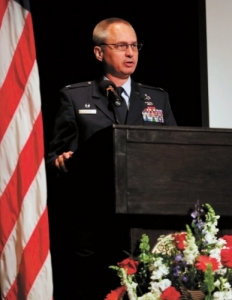 News-Argus/CASEY MOZINGO
Gold Star Wife Brenda Albritton holds her hand over her heart as Taps is played during this year's Wayne County Veterans and Patriots Coalition Memorial Day ceremony at Wayne Community College. Her husband, Spc. Dempsey Woodrow Parrott, was liked during the Vietnam War in 1968.
Brenda F. Albritton remembers her late husband, Army Specialist 4 Dempsey W. Parrott, every day even though it has been nearly 50 years since he died on a Vietnam battlefield.
Monday morning she represented all fallen warriors, including her husband, during the Wayne County Memorial Day Service in Moffatt Auditorium on the campus of Wayne Community College.
More than 200 people attended the event sponsored by the Wayne County Veterans and Patriots Coalition. The Seymour Johnson Air Force Base Color Guard presented the colors.
Ms. Albritton, a Gold Star Wife, and keynote speaker Col. Shannon M. Cooper, commander 4th Maintenance Group, 4th Fighter Wing at Seymour Johnson AFB, placed the memorial wreath.
Parrott was a medic with the Army when he was killed in combat in May 1968.
Ms. Albritton said that as recent as three years ago it would have been hard for her to have participated in such a ceremony.
"I feel it is a great honor to be here today to keep the memory alive," Ms. Albritton said following the ceremony. "As long as Dempsey has been gone, it never goes away. It is always there, that hurt. But to attend something like this, it is a great honor. I am just beginning to realize how much these mean.
"I want to do anything that I can to keep his memory alive in any way possible. I feel like this (ceremony) is a part of doing that."
Ms. Albritton said he was honored to be part of something to keep the memories alive of other fallen warriors and to honor their families.
It is difficult to have loved ones far from home, made worse by the uncertainty of what might happen, she said.
"I feel like I am getting closure after all of these years taking part in special events," Ms. Albritton said. "May God bless all of the families of service members everywhere. I pray for their safety, their safe return, and I pray their families will be able to deal with their loved ones being so far away and in danger."
Cooper said it was his privilege to participate in the ceremony to pay homage to fallen service members and to recognize the immense debt that it owed to them and to the loved ones they left behind.
"Memorial Day is the time for our nation to reflect, to remember and honor our airmen, soldiers, sailors and Marines who made the ultimate sacrifice defending and supporting our great country," Cooper said.
For almost 250 years men and women in uniform have fought and died to save the nation's way of life, its interest and ideals, he said.
"The freedom, liberty and strength of our nation exists because of their courage, selfless service, consummate professionalism and commitment to a larger cause," Cooper said.
More than 1.3 million American service members have given the ultimate sacrifice in defense of the nation and its ideals since the Revolutionary War, Cooper said.
Supporting the families of service members is one of the military's most solemn obligation, he said.
More than 80,000 service members are still missing in action, Cooper said.
"It is our responsibility to make sure those who have not returned are never forgotten," Cooper said.
On average the Department of Defense identifies six Americans each month who are reunited with their families, he said.
"For those who have been found, I am hopeful it brought closure to their families," he said. "For those still remaining, the search continues, and you are not forgotten.
"As we remember those who gave their lives let us also recognize the thousands of North Carolina service members currently deployed around the world as well as their families who keep the fire burning at home and pray for their safe return."
Regardless of whether the day is spent at a parade, a memorial ceremony or observing the day in private, Cooper urged audience members to remember those who have made the ultimate sacrifice and those who are still in harm's way.
At 2:45 p.m. the National Moment of Silence was observed at the Wayne County Veterans Memorial downtown.
Ms. Albritton, Chief Master Sgt. Eugene Elking, superintendent, 4th Mission Support Group, and Sylvania Wilkerson, commander Military Order of the Purple Heart Chapter 657, placed the wreath.
An eight-member Wayne County Sheriff's Office Honor Guard fired a three-volley salute.
"I am really honored to be here to join you in this Memorial Day moment of silence and wreath-laying ceremony," Elking said. "Memorial Day, of course, is not just the start of summer. It's a solemn day for remembering the people who paid the ultimate price for freedom while serving in the country's armed forces.
"The heroes of this great country have never hesitated to answer the call to defend out nation against its enemies and preserve the freedoms that we hold dear."
Along with remembering the fallen heroes, remember their families as well as they, too, have paid a "great price for our freedom," he said.