Faith Christian Academy holds graduation ceremony
By Becky Barclay
Published in News on May 20, 2017 10:09 PM
Full Size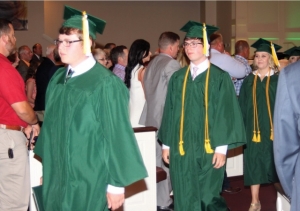 News-Argus/BECKY BARCLAY
Faith Christian Academy graduates walk from the assembly after turning their tassels during the commencement event Friday night.
The Rev. Christian Powell challenged the 2017 graduates of Faith Christian Academy to "never be afraid to stand."
During Friday night's graduation ceremony, 12 students turned their tassels.
Powell encouraged them to stand up and be counted, stand out and be different from the rest, stand for what they know to be truth and right.
The senior pastor of Faith Free Will Baptist Church told the story of the Tiananmen Square political protests of 1989 in Beijing, China. He said it was a democracy movement calling for greater accountability of the government, freedom of speech and more.
"As the protest spread, martial law was declared and several hundred demonstrators were killed," Powell said.
Amid all of this, one photo became famous around the world, a photo of one man standing in front of the column of advancing tanks. The man was known only as "tank man."
"He stood defiantly in front of the tanks to keep them from mowing down protesters," Powell said. "He stood. He wasn't afraid to take a stand for what he thought was right."
Not only did Powell challenge the graduates to stand for what they believe in, but he also challenged them to stand against wrong and injustice, against indifference and against status quo and ignorance.
Before they turned their tassels, Micah Conlon, school administrator, told those attending the graduation ceremony that "for 50 years, Faith Christian Academy has been producing students like the ones sitting here before me. They make our school a better place."
In his salutatorian speech, Dylan Downey told his classmates that they were about to embark on something exciting in this next chapter of their lives.
"The foundation that has been laid here at Faith Christian Academy will guide us with what lies ahead," he said. "We have created a lot of great memories together and have grown close over the years. I'm excited to see what the Lord has planned in the lives of each of us."
One of several graduates who had attended Faith Christian Academy his whole life was 18-year-old Tulsa Hudson.
"I've been here my whole life and before because my mom worked at the daycare here while she was pregnant with me," he said. "It's a great environment. It's smaller in numbers so you can get closer with everybody. And it's easy to be a Christian here.
"It's been fun, and I hate it's over."
Hudson said the best memories he will carry with him after graduation are the ones made with friends over the years. He plans on attending Pensacola Christian College in Florida to study something in the area of the ministry.
Taylor Skinner, 17, transferred from another Christian school when she was in the seventh grade.
"We wanted a school that would challenge me more spiritually," she said. "They have really helped shape me into the person I am today spiritually because they made sure that was the most important thing."
She will always remember the teachers there who dedicated themselves to the students and to the Lord.
"It's an exciting time in my life beginning a new chapter, but it's also super sad because I'm leaving all the people here," Taylor said. "It's going to be really hard leaving them."
She plans on getting her cosmetology degree while also taking online classes to become a high school English teacher.
"I'm super excited about what the Lord has for me in the future," Taylor said.
Other Local News