Returning to Seymour Johnson
By Ethan Smith
Published in News on May 20, 2017 10:09 PM
Full Size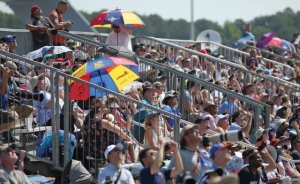 News-Argus/CASEY MOZINGO
Hundreds of people gather in the bleachers near the runway at Seymour Johnson Air Force Base Saturday.
Full Size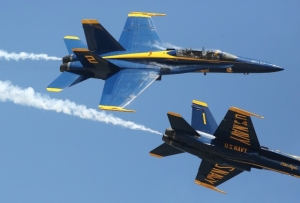 News-Argus/CASEY MOZINGO
The Blue Angels break away from formation during their performance Saturday during the Wings Over Wayne Air Show at Seymour Johnson Air Force Base.
George Peterson spent 20 years in the United States Air Force before retiring from Seymour Johnson Air Force Base.
On Saturday, he returned to the base with his brother, Victor, alongside him.
Victor is a veteran, too -- he spent three years in the U.S. Army.
Saturday was Victor's first time experiencing the Wings Over Wayne Air Show, though George said it was not his first rodeo.
"It's his first one, but I retired out of Seymour Johnson," George said. "I worked in the 334th. I worked in wing quality assurance and the 334th fighter squadron before I retired in 1988 working the F-4 (airplane), slightly behind this time."
George said he now lives in New Hampshire, and hasn't made it back down to Goldsboro for every air show since he left, but came down this year to show his brother what it was all about.
"He persuaded me to take a ride, and here I am," Victor said. "I came down from Maine."
George said much has changed in the base he retired from, but some things remain the same.
"It's pretty eye-opening," George said. "There's a lot of new stuff, but there's also a lot of stuff that's the same. The 334th, 335th and 336th hangars are the same as they were when I was here. I got a chance to talk to some of the crew chiefs from the 334th who work on the Strike Eagle (F-15E) now. They were quizzing me about the F-4. It's been fun."
Victor said being an Army veteran, he had no experience with planes while he was serving, so Saturday's air show was quite a change of pace for him.
"I was in the Army Corps of Engineers when I was in the service," Victor said. "This all always fascinated me with airplanes. To watch the Blue Angels, it's pretty impressive."
George said the two brothers got a sneak peek at the show Friday, giving them a taste of what it would be like when thousands upon thousands of people converged on the base this weekend.
"We were out here yesterday, and I was talking to the guys from the 334th," George said. "We had a little special set up for that. They let me go on the flight line and stuff, and while we were out there the Blue Angels were flying, and we watched the F-22 demonstration -- that's really impressive."
Both brothers said the Blue Angels, the Navy's famed flight demonstration squadron, and the F-22 Raptor Demonstration dazzled them with the precise and intense maneuvers the pilots make during the displays.
"It's amazing to see what they're capable of doing," George said. "Especially the F-22."