$40K raised for pregnancy center
By Steve Herring
Published in News on May 13, 2017 11:38 PM
Full Size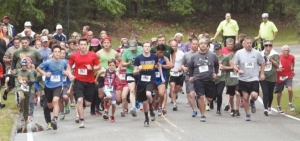 News-Argus/STEVE HERRING
Nearly 80 runners take off at the start of Saturday morning's Run for Life 5k at Walnut Creek. Behind them another 200-plus people wait to start the one-mile fun walk. It is the third year the Wayne Pregnancy Center has sponsored the fundraiser that this year raised $40,000.
Full Size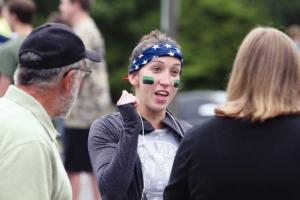 News-Argus/STEVE HERRING
Rachel McCormick of Goldsoro talks to her parents, Rick and Cindy, prior to Saturday's Run for Life 5K.
Some walked.
Some ran very fast.
And others joked that they were the limping brigade, in no particular hurry.
Regardless of their speed, or lack of it, the nearly 300 people who braved Saturday's damp, cool weather helped raise more than $40,000 for the Wayne Pregnancy Center.
The nonprofit center, which is celebrating its 15th anniversary, had a $38,000 goal for its third annual Run for Life 5k and a one-mile fun walk held at Walnut Creek.
The event kicked off at 8 a.m. and attracted about 80 runners and more than 200 walkers.
"The rain has dampened it a little bit this year," said Beverly Weeks, center director. "Our goal for the event as $38,000, and right now figures are going to put us at roughly over $40,000."
Nelson Martinez, 28, of Mount Olive captured first place in the 5K with a time of 18:50. Eli Winders, 12, of Goldsboro put on a burst of speed in the stretch to claim second place with a time of 19:50 and just ahead of Patrick Downs of Kinston, who finished with a time of 20:03.
"One of the main things that we do, of course, is that we promote life, and promote the cause of life," said the Rev. John Randolph, pastor of Crossway Church and center board member. "So we want to be a whole life ministry not only to help those who may be involved in a crisis pregnancy but also to help the fathers and reach out to every aspect that is involved in a new life coming into the world."
The center, located at 3501 E. Ash Street, receives no local, state or federal funding, Ms. Weeks said. Its volunteers include doctors and nurses, she said.
"We are solely funded by local churches and local pro-life individuals and businesses that support the ministry," Ms. Weeks said. "All of our services at Wayne Pregnancy Center are free and everything is strictly confidential."
It provides free pregnancy test to anyone in the community facing unplanned or unwanted pregnancy, she said. It also provides free limited ultrasounds, parenting, prenatal, cooking and life skills classes.
"It is not just about that young mother, who is finding herself in that unplanned pregnancy," Ms. Weeks said. "But it is to get that father and that whole family to come along side of her.
"We not only want to meet their physical aspect by providing resources, but also to help them with the emotional aspect and also come along side them spiritually and lead them into different churches in our community that can help them."