Wayne County Public Schools announces Instructional Assistant of the Year
By Phyllis Moore
Published in News on May 3, 2017 9:57 AM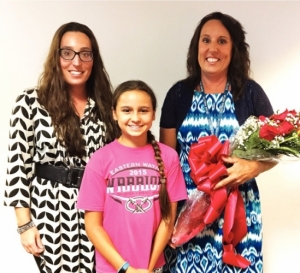 News-Argus/PHYLLIS MOORE
Sarah Robinson, right, media assistant at Eastern Wayne Middle School, who was named the first Instructional Assistant of the Year for Wayne County Public Schools on Tuesday afternoon, poses with her daughters Ashley Robinson, left, and Victoria Perry.
Teacher assistants are a valuable addition to the classroom, prompting Wayne County Public Schools to create the Instructional Assistant of the Year award.
Sarah Robinson, media assistant at Eastern Wayne Middle School, was named the first recipient of the honor on Tuesday afternoon.
As a former teacher herself, Dr. Yvette Mason, assistant superintendent of human resources, said she knows the value of having that support in the classroom.
"You help to mold the lives of the students. You're that additional help and support that we love and that our children fall in love with as well and help us with the day-to-day process," she told the audience.
Calling them the "other mother figure," she said the district decided to highlight the role of the instructional assistant this year.
"We want you to know that WCPS notices your contributions to our students as well as to our parents and we appreciate all the hard work that you do," she said.
The program was modeled after the Teacher of the Year recognition, including a portfolio and interview process. And one added bonus.
"The top three finalists, we've decided that each finalist will receive a monetary stipend. Nobody knew that going into it," Mrs. Mason announced.
Individual schools selected their own Instructional Assistant, with each completing a portfolio and participating in the interview process.
Then the field was narrowed down to three finalists - Mrs. Robinson, Susie Chase of Charles B. Aycock High School and Barbara Lofton of Spring Creek High School.
Every representative from the district received a crystal award.
In addition, the finalists were presented with a cash stipend. Ms. Chase and Ms. Lofton each received $250, while Mrs. Robinson was given $500.
Mrs. Robinson has 17 years of service with the school district and has worked at the middle school for the past four years. This past year, she took on added duties as part-time media assistant at Eastern Wayne Elementary.
In her various roles with the district, she has led student clubs, served as assistant coach for Battle of the Books teams -- including this year's elementary school team, which recently advanced as high as it could go, as regional winner -- and coached varsity women's swimming. She has also spent several years of her career, first at Greenwood Middle and now at Eastern Wayne Middle, serving students in need of additional support in math.
"Mrs. Robinson promotes learning in every aspect of the school," said Catherine Fulcher, EWM principal. "She is a go-getter and always looks at situations differently, which is a huge plus because she gives great insight on innovative ideas that the school can benefit from.
"The students and staff love her and her enthusiasm about our school is contagious."
Accepting the honor, Mrs. Robinson enthused about her counterparts in the audience.
"We're kind of the hidden people in our schools but I believe that we're very valuable people in our schools," she said, drawing applause. "We all have our unique jobs. We all work one-on-one with our students and you know, we don't get the recognition -- I guess we do now -- we don't get the pay. That's OK.
"But I just want you all to know, truly, truly, you are all valued and you're very valued for our students."
She said those who serve as instructional assistants don't do it for the money but for the love of the students.
Her younger daughter, Victoria Perry, an eighth-grader at Eastern Wayne Middle, stepped up to help her mother carry her winnings, which included a large bouquet of red roses. But she wasn't the only family member there.
Ashley Robinson, an eighth-grade science teacher at EWM, is in her second year of teaching, the first at the same school as her mother and sister.
"It's been really good this year," Mrs. Robinson said of the situation.
"It's really fun to have the support of your mom and sister," Victoria said.