Roads remain closed today after rivers, creeks flood
By Steve Herring
Published in News on May 1, 2017 9:57 AM
Full Size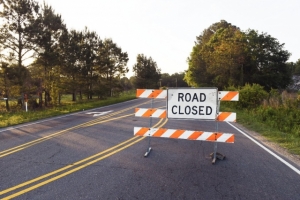 News-Argus/SETH COMBS
A road-closed sign stands at Westbrook and Arrington Bridge roads this morning as waters of the Neuse River rise, forcing commuters to find alternate routes.
Full Size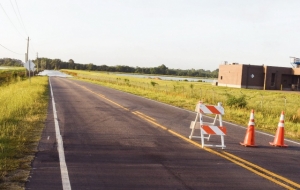 News-Argus/SETH COMBS
Neuse River waters block travel near the water reclamation plant at 714 Arrington Bridge Road this morning.
Several Wayne County roads remain closed this morning because of flooding from the Neuse River, Little River or creeks and streams.
Three water rescues were carried out over the weekend after motorists attempted to drive across flooded roads. No injuries have been reported, said Mel Powers, Wayne County Office of Emergency Services director.
A flood warning remains in effect for the county, and as of 3:15 this morning the Neuse River was at 24.4 feet, down slightly from its crest late Sunday of 24.88 feet.
The flood stage is 18 feet, and the river is not expected to drop below that level until sometime early Saturday.
Wayne County Public Schools operated on a two-hour delay today because of high water and road flooding.
According to the state Department of Transportation sections of the following roads were closed this morning, Stevens Mill Road, Arrington Bridge Road, Mill Creek Road, Bryan Boulevard, Ferry Bridge Road, Lassiter Road, Claridge Nursery Road, Casey Mill Road, Pecan Road, Old Mount Olive Highway, Emmaus Church Road and Slick Rock Road.
South John and Westbrook streets in Goldsboro were closed over the weekend because of high water.
No one could be reached with city government this morning for updates on any flooding issues or street closures.
There is a good chance for a few strong to severe thunderstorms across the eastern Piedmont into the Sandhills and Coastal Plains early this evening, mainly between 6 and 10 p.m., according to the National Weather Service in Raleigh.
Damaging straight line winds are the primary severe weather threat.