Delegation splits on Medicaid expansion
By Steve Herring
Published in News on May 1, 2017 9:57 AM
More photos for this story are available in the

Full Size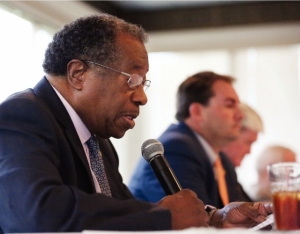 News-Argus/CASEY MOZINGO
N.C. Rep. Larry M. Bell reads off of his notes on health care during the Eggs and Issues Legislative Breakfast at Lane Tree Golf Club Friday morning.
Wayne County's legislative delegation Friday morning split along party lines on whether the state should expand Medicaid.
The Medicaid system is broken and needs fixing not expansion, said Republicans Sen. Louis Pate of Mount Olive and Reps. John Bell of Goldsboro and Jimmy Dixon of Mount Olive
Democrats Rep. Larry Bell of Clinton and Sen. Don Davis of Snow Hill agreed reform is need, but that so is expansion.
It was just one of several issues the county's five-member legislative delegation tackled Friday morning during the Wayne County Chamber of Commerce's Eggs and Issues breakfast.
Held at Lane Tree Golf Club, the event was sponsored by the News-Argus and publisher Hal Tanner III was the moderator.
Medicaid was written in the 1960s by the federal government to help people who could not afford their own health insurance, said Pate, co-chairman of the Appropriations on Health and Human Services Committee, and a leader in Medicaid reform in the state.
Medicaid has struggled a lot of the way since then, and while it provides "wonderful relief," it is a tough way to get it done, Pate said.
"I see the word Medicaid reform and then expand Medicaid and there is a big difference between reform and expansion," Pate said. "Reform means cleaning up around the edges of Medicaid that we have now.
"Expanding means, of course, bringing more people into coverage."
Medicaid is an entitlement program so if a person is eligible for it and any services it provides for a person's health care, it is there for that person, regardless of their ability to pay, he said.
It does a wonderful job, but there are a lot of things that need to be looked at before the state even thinks about expansion, Pate said.
"For instance, one of the biggest negative issues about Medicaid is the incredulous amount of waste, fraud and abuse," Pate said. "We have evidence in North Carolina of providers who are no longer with us on this earth who are still ending in bills for Medicaid services they allegedly are providing to Medicaid members who are also not on this earth anymore."
Also, unnecessary and costly procedures have been ordered, he said.
It is imperative that be cleaned up, and Medicaid made more efficient, Pate said.
Pate said he thinks that would save the state $1 billion annually that could be used to improve the health of citizens.
Dixon said he looks to Pate's leadership on Medicaid.
"I can tell you that I am opposed to expansion," he said. "Why would you even consider expanding something that is not working?"
It is too expensive and rife with abuse as Pate had mentioned, Dixon said.
"However, I am tremendously interested in Medicaid reform, perhaps in an unusual way," he said. "The first step in reform is to improve K-12 education."
Sanity is needed in Medicaid, and the state needs to find out what is expanding the need for Medicaid and correct that, he said.
School choice and improvements in K-12 and other kinds of education are needed, Dixon said.
That will help children already on track to become "involved" in Medicaid get a good job and not go on Medicaid, he said.
Expanding Medicaid is very important for rural North Carolina, Rep. Larry Bell said.
There are two reasons, he said.
"We have a lot of citizens who do not have access to health insurance and affordable health care," Bell said. "There are people who often have to go through Medicaid. Expansion would help these people.
"This would not only make them healthier, which is so important, but it would also make them better able to provide for their families."
It also will reduce future medical expense that everyone pays, Bell said.
Secondly, rural hospitals are vital to economic development, and are major employers and sometimes the biggest employer in a county, he said.
Bell said several states already have expanded Medicaid and that he did not see how North Carolina could fail to do the same.
"As a matter of fact, we will end up paying for it anyway by helping other people who are getting it, and we are not," Bell said.
Davis said he thought the question deals with House Bill 662 filed by three Republican House members not known as being "extreme liberals."
Another 19 members have signed onto the bill, he said.
The bill has components for preventive care, that Davis said thinks everyone could agree with.
It also has a wellness component, he said.
Davis said he would like to hear more discussion about the mandatory employment component of the bill.
Davis commended the representatives for having the courage to sign and put something out there to start the discussion.
It is bipartisan, too, he said.
Davis said 32 states have expanded Medicaid of which 16 were led by Republican governors at the time of expansion.
North Carolina has walked away from nearly $6 billion by not expanding Medicaid, he said.
House Majority Leader John Bell said when he walked into his first session in 2013 that the state had a $600 million shortfall in Medicaid.
"We had to fill that hole before we funded the first classroom teacher in the state of North Carolina," he said. "Think about that."
The shortfall was the result of mismanagement, abuse and unexpected cost projections, Bell said.
"So you can't expand something that was completely broken," he said. "So you have to start with the reforms first which is what we are doing. There were 919 plus bills filled in the House of Representatives -- there are some good ideas. There are some crazy ideas."
Some found their way to the trash can before being filed -- the best thing that could happen, Bell said.
The "media spin" got ahead of House Bill 662 and called it expansion, Bell said.
"I don't believe that you should expand something that is broken," he said. "You have to fix the reforms first. Sen. Pate helped lead the charge in doing that. He is still in the process of doing that.
"The other issue we have is if you go ahead and expand Medicaid, what is the federal government going to do this afternoon?"
The state has to watch what the federal government does because the state could find itself in a bind if it expands Medicaid, only to have the federal government do something that leaves the state in another $600 million shortfall, Bell said.