Firefighters called on to battle Nordic blaze
By John Joyce
Published in News on May 22, 2014 1:46 PM
Full Size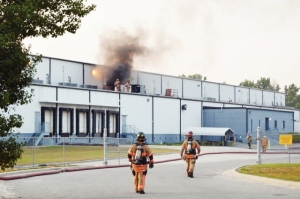 News-Argus/JOHN JOYCE
Firefighters work to contain a fire at the Nordic cold storage facility Wednesday.
More than 50 firefighters from four departments responded to an industrial structure fire at the Nordic cold storage facility at 403 Commerce Court just after 7 p.m. Wednesday.
An air conditioning unit atop the warehouse caught fire, sending smoke into the air visible from both directions along U.S. Highway 70.
Pinewood Fire Department Chief Jay Warrick had command of the scene.
"We won't know the cause. It was already on fire when we got here," Warrick said.
His crew, the first to arrive, had to battle a chained and locked security gate before taking on the rooftop fire. An ax would not cut it. Bolt cutters were called for.
The El-Roy and New Hope fire departments responded as mutual aid to back up the Pinewood trucks already on scene, which is standard procedure, Warrick said.
"I did also call Goldsboro (Fire Department) to bring their ladder truck in case we needed it. That's not standard procedure," he said.
Pinewood crews negated the need for a ladder truck, placing an extension ladder against the building and climbing one-by-one to the roof.
A line was run from a nearby hydrant to the roof and, within minutes, the fire was extinguished.
An interior crew worked its way through the inside of the facility but found no one inside.
No one was injured during the blaze.
Other Local News