Man injured in city shooting
By John Joyce
Published in News on May 22, 2014 1:46 PM
Full Size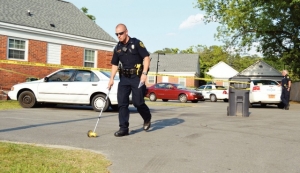 News-Argus/JOHN JOYCE
Goldsboro police officer J.R. Anderson measures the distance between the crime scene and South Herman Street after a shooting sent one man to Wayne Memorial Hospital Wednesday.
Goldsboro police have confirmed a Wednesday shooting in the city is related to the May 13 murder of Doral Deangelo Best, 42.
Corey Ramone Best Jr., 20, 1908 N. John Court, is recovering from two gunshot wounds to the back suffered when an unknown suspect opened fire on the vehicle in which he was riding in the 300 block of North Herman Street.
The shooting took place just after 5:30 p.m.
Best was transported by Wayne County EMS to Wayne Memorial Hospital.
He was released later that evening after being treated for what police called "superficial wounds."
Maj. Al King said there is a familial connection between the two shooting victims.
"We are working to establish just what that (connection) is," King said.
Doral Best was shot and killed outside his residence at 101 B Ervin Drive after 10 p.m. May 13. Several shell casings littered the ground around the victim.
Police have no suspects in the murder despite several bits of information they have received regarding a missing amount of money, said to be as much as $100,000.
None of that has been confirmed, King said.
King did confirm, however, the victim's girlfriend, whose name has not been released, moved out of the couple's shared residence the day after the killing.
"We can still get up with her though. It is not as if she up and disappeared," he said.
Wednesday's shooting of Corey Best has provided investigators with new information that might lead to the shooter or shooters in each case.
"We have some very good leads," King said. "At this point, we aren't ruling anything out."