The next chapter
By John Joyce
Published in News on May 23, 2014 1:46 PM
More photos for this story are available in the

Full Size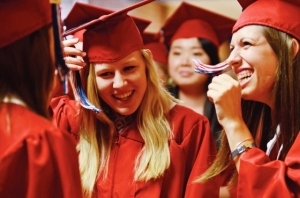 News-Argus/CASEY MOZINGO
Katy Fletcher, left, and Kennedy Dalton laugh with their classmates before the commencement exercise at Wayne Country Day School on Thursday night.
Full Size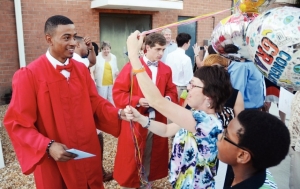 News-Argus/CASEY MOZINGO
Wayne Country Day School graduate Marlon Coley, left, is congratulated by Dawn Traveny, a teacher in the school's learning center.
Patty Alexander had him for homeroom.
Robin Casey taught him reading.
And Heather Puckett was a resource inclusion teacher who worked closer with Marlon Coley than anyone after he was diagnosed with dyslexia in the fourth grade.
So when the young man, along with 20 of his classmates and six more in absentia, graduated from the Wayne Country Day School on Thursday in front of an audience of more than 300, his former teachers were among those celebrating his achievement.
But nobody was more proud than his mother, Clara.
Ms. Coley has been a single mother for 15 years, and both she and Marlon said they knew how hard the other had worked to make Thursday's commencement a reality for one another.
"I am very proud," Ms. Coley said. "I always tell people who God blesses with a child that it is our job to take care of them."
Marlon, speechless when trying to find the words to thank all his teachers, supporters and mother, could only describe the feeling as "amazing."
He will attend Campbell University in the fall and attempt to walk on to the school's basketball team when his knee's torn anterior cruciate ligament is fully healed, he said.
"When he goes off to college, I will feel like I am losing my best friend," Ms. Coley said. "But I know he is ready."
Each of the 2014 Wayne Country Day graduates are ready for the next challenge, valedictorian Karis Hawkins said.
"It's a new beginning. I think every one of us feels the same way -- ready to go out into the world," she said.
Evelyn Jin, an exchange student from China, spent two-and-a-half years at Wayne Country Day.
She said her experience at the school was made easier by a welcoming faculty.
Ms. Jin plans to attend the University of North Carolina at Chapel Hill and will decide her major along the way.
"I am thankful for all of their support," she said. "This is a great school. The teachers are very nice."