T.A. Loving chosen to oversee school plans
By Melinda Harrell
Published in News on May 23, 2014 1:46 PM
Full Size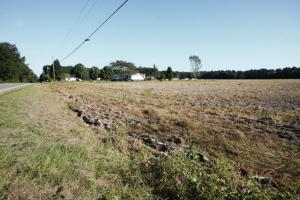 News-Argus file photo
Wayne County will build a new Spring Creek Middle School on a 35.45-acre parcel of land on the east side of N.C. 111 South at Park Road just north of Spring Creek High School. The new Grantham Middle School will be built on U.S. 13 just west of the existing school.
The Wayne County Board of Education on Thursday selected the team of Metcon/T.A. Loving as its top choice for the construction manager at risk for the Spring Creek and Grantham middle school projects.
The selection process began with eight firms responding to the school board's request for qualifications. The facilities committee, which include board members Eddie Radford, Richard Pridgen and Arnold Flowers, narrowed down that list to the top three.
Those were presented to the full board during Thursday's special session. Metcon/T.A. Loving emerged as the top choice, with Danis coming in second, and New Atlantic third.
Metcon/T.A. Loving was the logical choice, Flowers said.
"The fact that we have a local company (T.A. Loving) partnering with Metcon is very positive. We have a wonderful window of opportunity to get these schools built," Flowers said.
In the event that the fee negotiations fall through with Metcon/T.A. Loving, then Danis will be given a chance.
Metcon is located in Fayetteville and is the same construction manager that assisted in the building of Sandy Grove Middle School in Hoke County, which was one of the schools Wayne officials considered a prototype for the schools they want to build. Sandy Grove Middle School's design is highly energy efficient, so much so that the school produces more energy than it consumes.
The Grantham and Spring Creek schools are modeled after Sandy Grove, which is another reason why the company partnership made it to the top of the short list.
Another bonus to having Metcon/T.A. Loving managing construction is the locality, according to Flowers.
"We are keeping as many dollars in Wayne County as possible," he said. "This co-management is ideal. If there is a problem, we can go to William Street quicker over having to go to South Carolina."
Metcon/T.A. Loving will be responsible for overseeing numerous subcontractors, many local, that will work on different aspects of the build.
"We are going to have 39 contracts for these projects and 280 contractors are already looking into it," Metcon representative Mike Burris said. "I would estimate that 65-75 percent of those contractors are located in Wayne County."
According to Burris, the companies will monitor the quality of the materials, manage the work of the subcontractors and regulate expenses for budget maintenance.
Flowers said the competition for the contract award was steep.
"All eight of the companies that put in bids were very aggressive," Flowers said.