Water rescue team gears up for hurricane
By Casey Mozingo
Published in News on September 11, 2018 5:50 AM
Full Size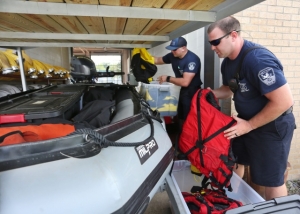 News-Argus/CASEY MOZINGO
Front to back, Adam Taggert and Justin Allen check the boats and inventory water rescue equipment Monday as the Goldsboro Fire Department water rescue team prepares for the possibility of flooding from Hurricane Florence.
The last few members of the 18-person Goldsboro Fire Department water rescue team became North Carolina Swift Water Technicians just two weeks ago.
On Monday, they began making preparations for their first big call to action since their formation about a year ago.
Members of the team checked the boats -- a raft and a Zodiac Milpro rescue boat -- and safety equipment, including personal flotation devices, dry suits and helmets that are stored at Station 1 to make sure they had everything they need if Hurricane Florence hits North Carolina's coast Thursday.
"The dry suits are what allows us to be in contaminated water and not have it seep in," said team member Justin Allen, as he repacked the boxes that were just inventoried.
Each boat will be assigned three rescuers. The raft will have eight life vests, and rescuers will walk beside the boat to guide it. The Zodiac is designed for swift-water rescue, with three rescuers and vests for four riders, but it can also be used as a raft.
Although the team was formed for water rescues in the case of flooding, Capt. Chad Cobb is urging people not to drive through flooded areas.
"Our key thing is for people to not drive in flooded water. Turn around, don't drown," Cobb said.
"Areas that we're looking at for flooding are Stoney Creek, Wayne Memorial (Drive) by Kitty Askins, Royall and the ditch that runs from Ash to (U.S.) 70."
Cobb explained that when people put themselves in danger by driving into the water, they also endanger the lives of the firefighters called to rescue them.
The team is made up of six members from each shift, allowing for a 12-person team at any point that does not reduce staffing for normal fire department operations.
Goldsboro Fire Chief Joe Dixon said that along with the two rescue boats and safety equipment, the department is fully prepared for Florence, which he considers will be a heavy storm.
"We are working in conjunction with Wayne County Emergency Services as we prepare for the storm," Dixon said. "We want to be proactive."
He said that it will be all hands-on deck in his department. With the heavy rain that is expected, Dixon said that flooding will be a major issue.
-- News-Argus reporter Melody Brown-Peyton contributed to this story.